To make up for a lack of Supercar Saturday and Muscle Car Monday, here's a car that covers both.
Now, a lot of car names are words meant to evoke some kind of feeling or mindset, or aid a car's image, like "Charger" or "Mustang", but when the name is just a combination of letters and numbers, it is comparatively cold and only has meaning to the anoraks who have decoded it. Sometimes though, particular combinations do have meaning, they do evoke thoughts and emotions, and they can even evoke memories of a legend. One such instance might be GT-R, another might be M3 or RS or F1, depending on what you know or grew up with. One of the big ones, however, is a name that speaks of revenge, of endurance, of victory and of icons: GT40.
The finish line at the 1966 24 Heures du Mans
Many moons ago in 1963, Ford tried to buy Ferrari after hearing that Enzo Ferrari was interested in selling to them, however, the Italian racing enthusiast was determined to remain in charge of his racing cars, particularly open-wheeled racing such as Formula 1 and the Indianapolis 500, the latter of which Ford said Ferrari wouldn't be allowed to enter were the deal to be sealed, in order to avoid competition with them. This enraged Enzo, who cut off the deal with Ford at a late stage, a move which left then-company head Henry Ford II equally pissed off. Ford decided to give the Italians what for by making a new car specifically designed to beat them on the track, in world endurance racing.
Ford's racing division was ordered to team up with a racing company that would help ensure them victory, looking to three British firms; Lotus (who already raced successfully in F1 with a Ford engine), Cooper (founded by John Cooper, who was also tuning Minis to win rallies at around this time) and Lola, who to this day make competitive endurance prototypes, as well as having a history in F1. After Cooper was deemed unsuitable and Lotus wanted a high price and main credit for something Ford weren't sure they could do, they went with Lola, who had just recently built the Ford-powered Mk.6, one of the most advanced race cars of the time. The company's head and chief designer got involved without involving Lola Cars as a whole. He (Eric Broadley) and former Aston Martin racing team manager John Wyer headed the development team with Ford engineer Roy Lunn and designer Harley Copp, who used the only two Lola Mk. 6 chassis as a basis and worked away at the new car in England, first at Lola HQ in Bromley and then at a new facility in Slough.
One of the two original 1964 Ford GT40s
The finished car, dubbed "GT40" due to its 40-inch height, first appeared in 1964, and it didn't exactly leave Ferrari quaking in their boots. The '64
N

ü

r
burgring 1000km saw the solo débutante retire from 2nd place early on with suspension failure, and the GT40's first outing at Le Mans three weeks later was no better, with
all three
of the entered cars retiring, although one car did lead the race in its first stint. After a series of failures, the project was handed over to muscle car legend Carroll Shelby, who, in 1965, finally got a win out of the GT40 at the Daytona 2000. Alas, that was the only success to be had that year...
1966, however, was different. The Mk.II was given several aerodynamic revisions and a 7.0 litre V8 to replace the old 4.2. This, along with experience gained from the two previous years, allowed Ford to finally realise their ambition. They beat Ferrari, and beat them hard, with a 1-2-3 finish at the 24 Heures Du Mans, the most famous endurance race in the world. Not only that, but four Porsches separated the 3rd place GT40 and the highest-finishing Ferrari that year. There was dispute over which one actually came first, but in the end it didn't matter - Enzo's six-year reign over Le Mans was over, and Ford had shown them who's boss. Ford kept them beat too, with Le Mans victories in the three following years making it four in a row, and in 1968 they won the
World Sportscar Manufacturers' Championship
(WSC was the series holding the Le Mans 24H at the time).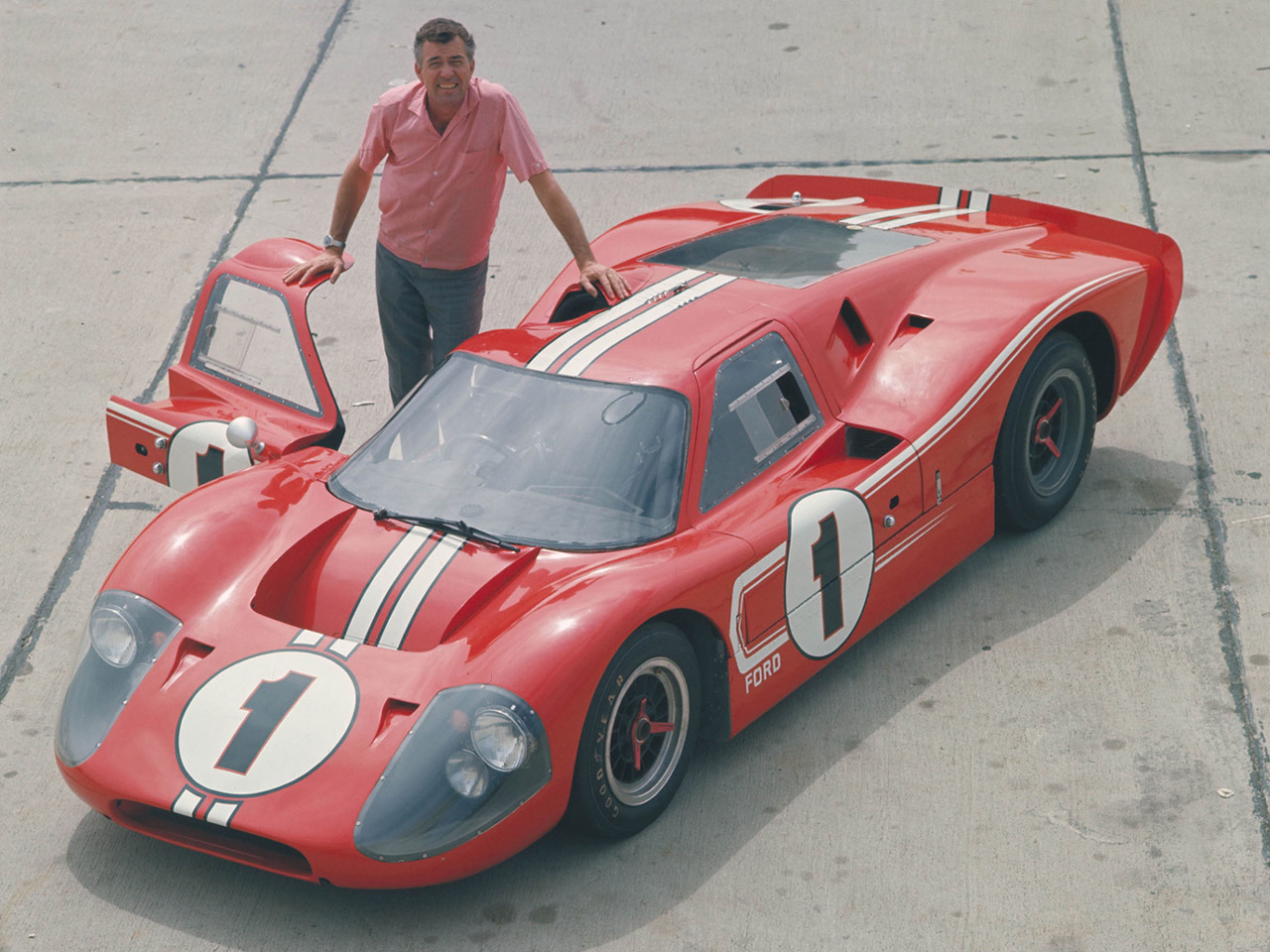 Carroll Shelby standing with a 1967 Mk.IV
After that, the GT40 was outdated. After the speeds achieved in '67 with the redesigned Mk. IV, new rules in '68 cut the engine size down to 5.0 litres for sports cars and 3.0 litres for prototypes, effectively axing the Ferrari 330P that Ford originally chased. Despite winning that year and in 1969, the cars around it were moving into a new era, and by 1970 the GT40 was resoundingly obsolete, making way for the mighty Porsche 917 to own Le Mans for the next two years. Its replacement, the P68, proved a dismal failure...
Nevertheless, the Ford GT40 had become a legend, and in Gulf racing colours, one of the most iconic racing cars ever, so much so that ever since its departure (and the departure of the road car they built from 1965-9), companies have been building replicas for enthusiasts that can't afford one of precious few genuine road cars. Ford themselves tried to rekindle the magic of the GT40 with the GT70, a rival to the Lancia Stratos, which was made obsolete shortly after it started by new
WRC
rules. They tried again with the GT90, but that never evolved beyond a concept, so they decided the only way forwards was to go backwards and make the original Ford GT all over again.
2005 Ford GT
Powered by a 5.4L supercharged
small-block V8
engine, the Ford GT remake had even more international origins than the British-American original. It has German wheels, Italian (Brembo) brakes, a British gearbox and body, a Lotus-tuned chassis and the steering rack from an Aston Martin Vanquish. Seems fitting when you look at the Lola-designed GT40, but it does mean that any claims of an "All-American Supercar" are unfounded. Because it had a Lotus chassis and other parts from the best places to get them, it was miles above all other American cars and a great left-field alternative to a Ferrari F360 Stradale or an F430, as well as the then-new "baby Lamborghini", the V10 Gallardo. A limited edition that the likes of Martin Brundle, Jeremy "
POWERRRRR
" Clarkson, John Mayer (whoever he is) and even some people who are not famous bought for over £100,000 each, it left a sufficiently big mark for a
successor
to be in the works. Can't wait...