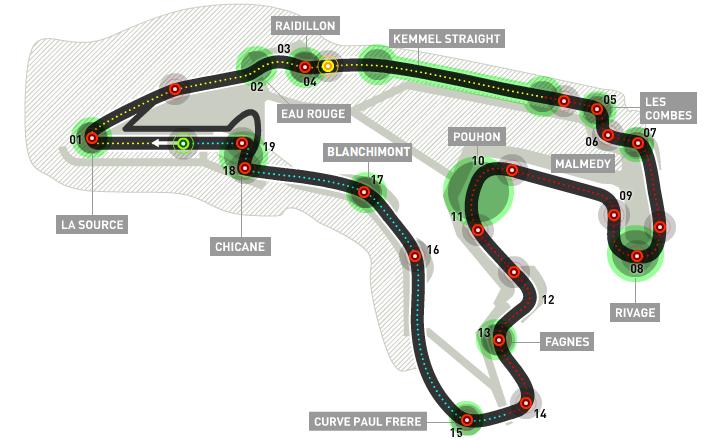 Spa-Francorchamps track map. This is the longest circuit on the calendar, and one of the drivers' all-time favourites
The Race In A Nutshell:
- Bruno Senna locks up and causes collisions at turn 1, loses front wing, gains drive-thru penalty later
- Nico Rosberg took the lead at Les Combes, but fell back after DRS was enabled
- After first round of pit stops, Webber passes Alonso at Eau Rouge (no mean feat)
- Hamilton and Kobayashi collide braking into Les Combes, Hamilton crashes out at high speed
- Vettel capitalises on resultant Safety Car to take lead post-pitstop
- Big gains as Button goes from 13th to 3rd (leading briefly), Schumacher goes from 24th to 5th
Top 5 Finishers:
Vettel, Webber, Button, Alonso, Schumacher
Spa, the only race track in the world shaped like a sub-machine gun, is the closest thing Formula 1 has to the Nürburgring Nordschleife in terms of length, history and difficulty (despite it having the longest flat-out section - from the exit of turn 1 to the braking zone at turn 5 - of any track on the calendar). This year's race marked the 20th anniversary of Michael Schumacher's Formula 1 début at this very track. He's gone from retiring on lap 1 in a Jordan car in 1991 to returning 20 years later as a 7-time world champion, Ferrari legend and 6-time Belgian GP winner (including winning it in 1992, just one year later). Contrastingly, the one considered "Schumacher 2.0" went into this race without a single Belgian win to his name. That didn't stop him qualifying on Pole Position by half a second though...