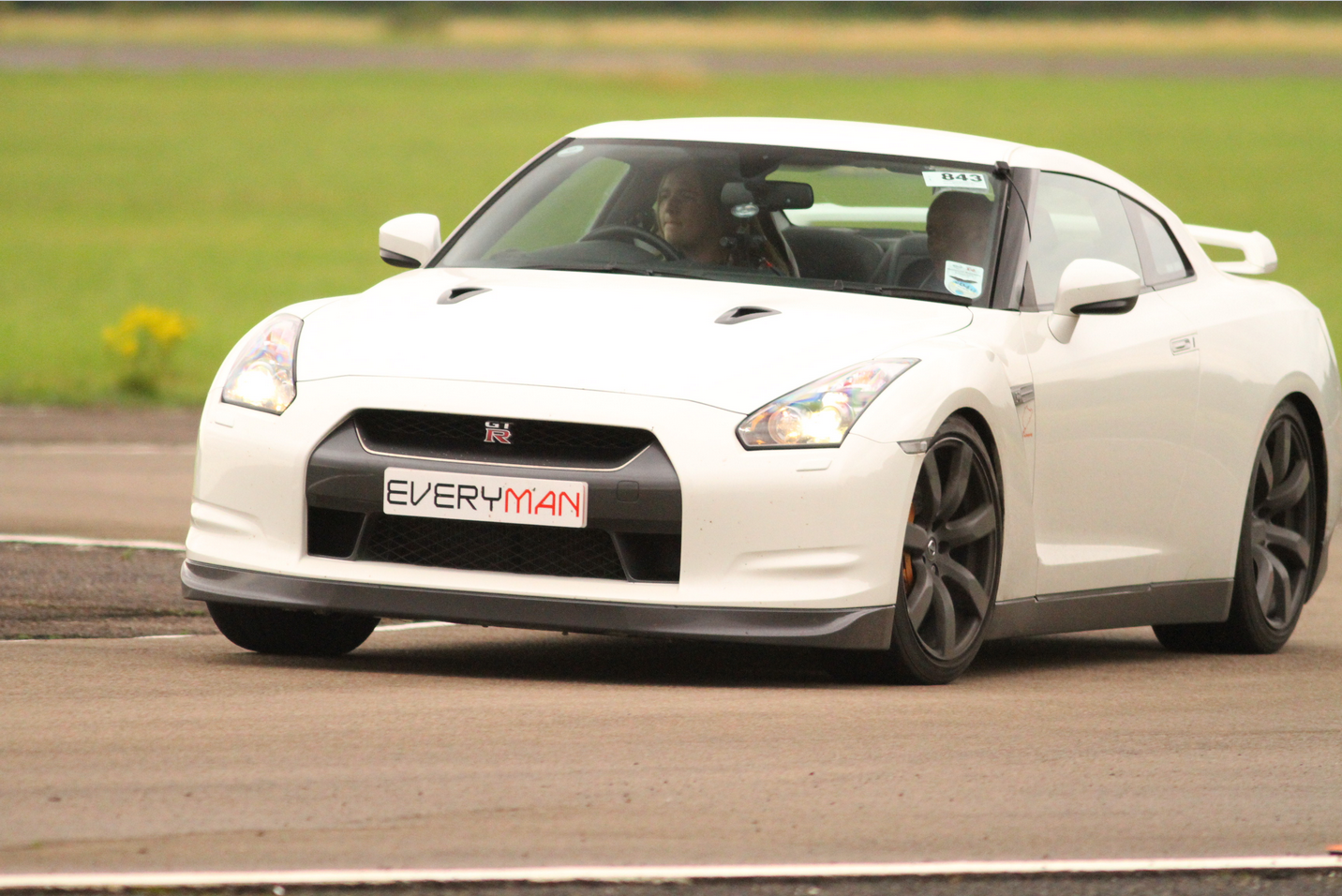 This article is so called because I've said from the start that I will drive this car before I die. As of 12/8/11, I have.
For my combined Birthday and Christmas present in 2009, my grandparents bought me a supercar gift experience that entitled me to drive a Lamborghini Murciélago 6.2 around a former airfield in Elvington in north Yorkshire (which I booked for February '10). Going from a 67bhp Fiat Grande Punto 1.2 to a 570bhp Lamborghini V12 a mere 2 or 3 months after passing my driving test was... interesting, especially as the driving position was rather awkward (requiring short arms and long legs) and I couldn't see out very well. The result was somewhat feeble driving. It was certainly fun though, and it sounded awesome - not just to hear that 6.2-litre V12, but also to snick-snick the
open-gated
manual gearbox into position - but I didn't really do myself proud. I didn't even hit 100mph. This year, however, was going to be better than last year......
For Christmas in 2010, I got another gift experience (that I asked for, rather than being a pleasant surprise). With another year of driving under my belt, I was finally going to drive the Gran Turismo Hero Car: the awesome Nissan GT-R. This is a car I followed as closely as one can on the internet. Every new spy photo, every new technical detail, I knew about it pretty quickly. The PlayStation racing sim had sparked a real love for the Nissan Skyline GT-R, and the bespoke R35 is something I anticipated more than pretty much anything (except maybe Gran Turismo 5). After about four years of dreaming about what it's like, and sitting in one at every opportunity at car shows, this was the big one. I was actually going to find out.
I said in my head on the way to Kenilworth (on the 12th August '11) that I would be able to compare Gran Turismo to real life. If my mind hadn't been distracted by a metallic dark grey McLaren MP4-12C in a petrol station, I probably would've remembered how the Lamborghini threw me around when the instructor and I swapped seats and that at the end of the day, even though the cars on GT5 handle almost identically to their real-life counterparts, and my Logitech Driving Force GT communicates so well you can get an excellent feel for how much grip there is, your chair at home isn't moving. Instead, I started thinking about the prevailing weather conditions as it started raining...
The clockwise circuit. Pit entry before final chicane.
We eventually arrived dry at Prodrive in Kenilworth, Warwickshire, where the track is based. Prodrive are actually a lot more important than they get credit for. They've put together Subaru Impreza rally cars for years - including Colin McRae's championship winner, if I'm not wrong - as well as the Aston Martin DBR9, Ferrari 550 LM, the 2011 Mini Countryman WRC, a few limited edition road cars and probably a few other things too, so it was cool to be on their turf, and actually spot a Countryman WRC somewhere out of the way of experience-goers.
As we sat there having arrived early, two of my siblings my mother and I (the third sibling and my dad weren't available), we rolled the windows down a little and relaxed, as the distant sound of Audi V8s, Lamborghini V10s, an Aston Martin V12 or two and the screaming supercharger of an Ariel Atom 300 echoed through the very tall trees that help hide secret cars from view. The anticipation built up as it had before in the car park at Elvington... and then it rained again. First it was light, raising the fear that this was the start of a slow-burning storm that would last our entire visit rather than simply a quick shower. With the 3:15pm deadline for when we could show up looming the rain picked up quite heavily, before subsiding into light drizzle and then, thankfully, nothing at all. Perhaps we were just on the edge of a bigger rain storm. Still, it left us with just enough time to get the minibus over to reception to sign in, get my papers in order and hop into the passenger seat of an MG ZS for two demo laps.
latter two
were for passenger thrill rides only. I stood eagerly as the previous person got out, waiting for the instructor to walk over and call out my name in a "now it's your turn to drive your dream car" kind of way...
"Olivia?"
Crap! Have I missed it? They explicitly say that if you're late, you don't get to do it, and it was by now a few minutes after 16:00, when I was due to be in the car. The next 10 minutes of waiting for the GT-R to return again were agonising, as I started to genuinely think he wasn't going to say my name after "Olivia" got out. Thankfully, he did say it, and I immediately put my hand up and hopped over the little fence for spectators (they must have been running late or something). I walked towards the instructor - sadly, his name escapes me - who extended his hand. I was a little nervous, so I looked at his hand for a moment and started handing him my paperwork, before realising he was going for a handshake. Brain fart number 1...
Go up
a gear!" After I finally did, he felt urged to remind me how to use them. Brain fart number 2...
unbelievable
. It felt like the back of the leather bucket seat was a catapult that had just been released, and the Gallardo simply disappeared
to my left
. A part of my brain that had made me lift off before started saying "No, this is scary", but the rest of my brain was saying "No, keep going, this is fucking awesome!", and I got it up to 116mph before I had to slow back down again (I wasn't allowed to take it up to the red line in case I broke something, but generally shifted at around 5-5500rpm out of 7000). I only know this having watched the video afterwards, but I did have a quick glance at the speedo and saw it brush past 100 without incident. I had never felt acceleration like that before, and it was enough for me to say "Bloody hell!" out loud. In the braking zone, I again had to use the pedals differently - my 1.2 Punto has the bigger, more potent brakes from a 1.4 thanks to the factory workers being slightly Italian, so there's not much travel in the brake pedal and I don't have to squeeze it much. This meant that the instructor (okay, I
think
his name might've been Paul, but don't quote me on that) had to say "Ok, slow it down now, bit more, hard on the brakes! Theeere we go". At the end of the first chicane, there's a big bump, and the first time I accelerated on it, it felt like the car moved around a bit, perhaps coming unstuck, but the video didn't reveal any wobbling, so it was probably a brief drop in traction that the highly-advanced ATTESA-ETS All-Wheel-Drive system sorted out in an instant.
Still, I have at least experienced it, and I like to think I made the most of it, all things considered. I certainly gave a few poster-worthy supercars what-for, which was very satisfying. I was also far from disappointed after meeting my dream car. They say "don't meet your heroes", but there are some exceptions to that, and this is one of them. It is brute force, materialised. What a machine.
Unfortunately we missed the last minibus to a complimentary "Ride in a 4x4" on Prodrive's off-road course (which only costs a donation to charity), as it was getting to the end of the day by then. I watched as some of the cars went off to their resting place, including an LP640 Roadster and the DB9 Volante I would've overtaken, their V12s sounding utterly glorious in their own ways. Then, a different instructor in a white Mitsubishi Evo V (one of the other experience cars) turned up, asking out the window "Is anyone here still waiting for a minibus? Do four of you wanna lift back to the car park?" Two of my siblings, my mother and I obliged, and he drove us half way round the track before peeling off and asking for directions to our car, stopping right behind it. Of course, many thank-yous were in order! There was no seat belt for the middle rear passenger, so he was gentle on the brakes, but gave us a little something in the chicane to remember (you don't need to brake after the first right, so he pretty much took it as he normally would, albeit probably a little slower on entry). It was nice that my appreciative spectators got a little taste of what I just did. To top it all off, on the way back, my car-spotting eyes saw another McLaren MP4-12C (this one finished in eye-catching 'Volcano Orange'), a Ferrari F430, a Jaguar E-Type (S1), a blue Ford Sierra RS Cosworth and two lucky people with their own Nissan R35 GT-Rs.
Overall it was a great day out. The instructors were helpful, professional and friendly, the weather held off at the right time and the venue was great. I also left with a USB stick with a video of me driving, 6 pictures from a professional photographer and a printed photo in a special little folder thingy. As for the GT-R? I must have one. Full stop.
BONUS IMAGE - One of the Lamborghini Gallardos I overtook (with strange exhaust trumpets).
There are two kinds of people in the world: Those that would rather show off in a Lamborghini, and those who would rather hunt down and overtake those people in a Nissan GT-R. This may or may not be true.