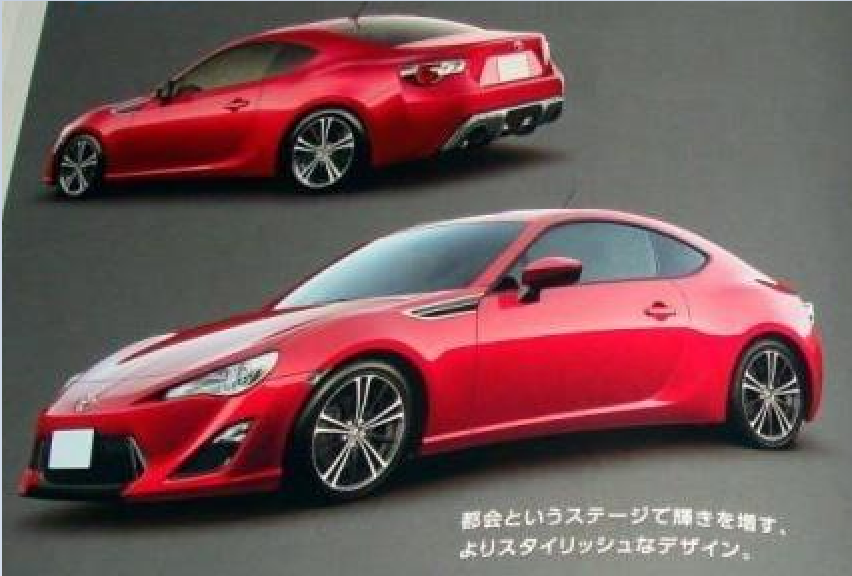 Image from leaked brochure photos. You'd think they'd be sure to take decent pictures...
After three different concepts cars and plenty of teasing and rumours, Toyota's light, FR-layout coupé has finally been revealed, although Toyota themselves weren't going to unveil it until the Tokyo Motor Show later in the year. This should teach them not to print manuals and brochures until the car has been unveiled properly...
[UPDATED]
Called the Scion FR-S in the US, and a joint project with Subaru (whose "BRZ" version will also be revealed at Tokyo, but hasn't been leaked yet, maybe because they haven't printed images yet?), the FR-S or "FT-86" is meant to be exactly what any petrolhead thinks the world needs, an antidote to the Toyota Prius. It's small and compact (about 200mm longer than a Mazda MX-5 or Honda CR-Z, but 20mm shorter than a Mazda RX-8), and that helps them give it a low weight of about 1210kg (~100kg over MX-5 and CR-Z but ~100kg below RX-8).
Power comes from a 2.0 litre Subaru-sourced boxer engine with Toyota's direct injection system, which gives it 197bhp (200PS) at 7000rpm, the same power as a heavier Golf GTI Mk.V, as well as 151lb/ft of torque at 6600rpm. That should be enough for many, but not only will the Subaru BRZ be more powerful, the FR-S is designed to be the ideal base for some good old fashioned tuning. The revvy naturally-aspirated engine (which was Subaru's until Toyota completely re-engineered all of it, with help from Yamaha, before putting it on Subaru mounting points, in case you want to put an Impreza rally engine in it or something) is designed to be tuneable, there are apparently holes in the interior for a rollcage to go into, the body is deliberately easy to work on, and it should really recapture the magic of the '80s cult classic and drifter's delight, the AE86-generation Corolla coupé and hatchback (the latter of which starred in manga and anime series Initial D). That power is sent to the rear wheels via a 6-speed manual transmission, or an automatic if you want to pay extra money to completely miss the point... and add 20kg.
Of course, power isn't everything. That's why it's designed to have as low a centre of gravity as possible (the lowest of any production car, no less), thanks in part to an engine that
barely goes higher
than the wheels, and probably a 50:50 weight distribution. It has also been tested extensively at the Nürburgring, as is fashionable, and early tests have suggested that it goes exactly where you point it, and its outputs directly reflects your inputs, so punch the throttle in a corner and you'll go sideways, balance the throttle instead and it'll remain completely neutral, so you can take aim and fire at apexes and exits of corners in the same way as a Porsche or Lotus. If this is true, and it really is better than the ever-present Mazda MX-5, then it's damn impressive. That said, you'd hope it was after 5 years of development...
According to a leaked Japanese
spec sheet
(which has been partially translated), there will be two specs for the Toyota version, the higher of which will add a mix of LED and HID headlights, more leather, "smart entry and start", a shift light on the white rev-meter, 6 speakers instead of 2, and 17" alloy wheels instead of 16s. All manual versions come with a Limited-Slip Differential, but the high-spec version also gets an LSD for the auto. The extras on the high-spec version add another 20kg, so if you want creature comforts, 1210kg becomes 1250kg, which will dent the fuel economy estimated at around 32mpg. All versions get stability control and many airbags, as well as the more important double wishbone rear suspension (with struts at the front).
Click To Enlarge
Basically, it's what driving enthusiasts want. It's light and agile, it's affordably priced (much unlike Toyota's last FR-layout car, the Lexus LFA), handles like a dream, with the engine in the front, a limited-slip differrential at the back and a 6-speed manual transmission in the middle, and it's easy to make it your own, either mechanically thanks to the Subaru mounting points/engine or cosmetically thanks to Toyota's
MODELLISTA
styling upgrades. It even has 4 seats so you can take your friends or relatives with you to the track. What more do you want? Reliability? Well, it's Japanese, so don't worry about that. More power from the factory? Well Subaru's going to have that covered with their BRZ, which shares all but the body panels with the FT-86, and will have "under 300bhp". Perhaps the 276bhp (280PS) that used to be the figure for every Japanese sports car? Who knows. All I know is that I want one. It's everything I want in a car, and the no-frills base spec's
interior
has only the essentials, namely air conditioning and an iPod-friendly radio, which are all I'm bothered about when it comes to interior features.
Source:
FT-86 Club
[UPDATE, 17:54]
The "Toyobaru" is now at a point where journalists and select people can drive pre-production cars (which are typically about 90-95% finished), and not only have CAR and Autocar magazines had a go, but the man who made this car's inspiration famous, Mr. Keiichi "Dorikin" Tsuchiya, has now been allowed behind the wheel, and all three brief reviews are very positive, with the one they call the 'Drift King' even comparing it to a BMW M car. You can read them and follow the links from
here
.
[UPDATE, 3/11]
Toyota Racing Development (or rather unfortunately, TRD) have now unwillingly
released a brochure
for their own cosmetic parts, as well as a couple of minor engine and chassis/suspension tweaks you can add on so the engine can take more serious work. Y'know, this car's not going to be much of a secret anymore if you keep printing information about it pre-unveiling, Toyota! Also, the
Subaru BRZ STI Concept
(basically a riced-up version of the "Subieyota") has now been revealed on the internet, if these renders are official anyway. Looks Subaru-y. I'm not keen on the plastic lip though...