Yas Marina Circuit. Grotesque Ferrari World theme park adjacent...
The Race In a Nutshell:
>
Sebastian Vettel's luck finally runs out as he gets a right-rear puncture into Turn 2.
>
2nd place-starting Lewis Hamilton leads by 2.5s after lap 1.
>
Jenson Button slips back from 3rd to... 3rd. KERS fails for a while, partially reset later on, battles Mark Webber
>
McLaren make lightning-fast pit stops, Red Bull botch Webber's, he falls out of contention for 3rd.
>
Webber battles Felipe Massa, causing the pair to fall behind Button.
>
Sébastien Buemi and Paul Di Resta battle, Di Resta runs wide at T11 and falls behind Buemi, who later retired.
>
Kamui Kobayashi overtakes a lot, finishes 10th to move Sauber ahead of Toro Rosso.
>
Pastor Maldonado and Bruno Senna penalised for ignoring blue flags, Maldonado does it again later.
>
Hamilton wins on his mum's birthday.
Top 5 Finishers:
Hamilton, Alonso, Button, Webber, Massa
Since this track appared at the end of 2009, it has played host to some boring races. The only thing that spiced it up last year was the fact that the championship was in the balance, and even then it was disappointing, because Fernando Alonso was stuck behind Vitaly Petrov and Mark Webber couldn't get the job done, so Vettel won from pole and snatched the championship, leading to some complaining rightly that it didn't allow overtaking. If they had DRS last year at this race, Alonso would've been champion. This year, the pressure was off, everyone had time to vomit on the world's fastest roller coaster at the hideous Ferrari World theme park behind Turn 7, and it looked to be a 55-lap parade after he siezed pole position for the 14th time this season...
Surprise Start:
Alas, it wasn't. After Sebastian Vettel got through turn 1 untouched by Lewis Hamilton in 2nd place, he was seen gliding sideways out of Turn 2 and onto the grass with a right-rear puncture. How? Had he hit it on the kerb gutter at the first corner? Was there some Arab bling on the track? Who knows, but it took him out of contention and blew the race wide open, with Hamilton - who actually set a faster lap time than Vettel, just in the wrong qualifying session - inheriting the lead. While everyone was watching the Mercedes GP cars getting up close and personal, Fernando Alonso was busy going around the outside of Mark Webber through Turn 1. Alonso continued his charge by catching and overtaking Jenson Button to take second place at Turn 8, while Nico Rosberg was able to get back ahead of his Mercedes team mate Michael Schumacher at the same corner, with the two of them still neck-andneck at Turn 11, while behind them there was dicing for position all down the field, apart from in 24th place, where Vettel was trying to get back to the pits with what quickly became 3 tyres.
Vettel Out:
Apparently the double world champion was a little too eager to get back to the pits, as the tyre had completely ripped up and was now being flung up in the air by the rear wheel and subsequently whipping down onto the floor of the car, causing significant damage. When he finally got back into the pits, the tyre had bent the wheel bearing, broken the rear brake cooling and broken off a suspension wishbone, so he was unable to continue. It was his first retirement in over 12 months. David Coulthard suspected that he put the inner sidewall on the outer edge of the kerb at T1, and the lower tyre pressure and heavier car were perhaps enough to deflate it, but no-one seems entirely sure what happened that punctured the tyre.
Double-DRS:
Meanwhile, Lewis Hamilton had gained a 2.7-second lead, perhaps filling in for Vettel while he was gone, and Sergio Pérez had pitted in from 10th place to get a new front nose. On lap 4, Mark Webber fancied a go at Jenson Button, who was unable to keep up and re-pass a determined Alonso, but because of the "Double DRS Zone", where one is immediately followed by another, after Webber passed him in Turn 8, Button re-passed him into Turn 11. This is something that would happen quite a lot in the race, particularly between Paul Di Resta and Sébastien Buemi for a few laps later on in the race, although Di Resta running wide into T11 on lap 14 allowed Beumi past once and for all. On lap 11 the Saubers - both of whom were right near the back after Kamui Kobayashi had somehow dropped back and Pérez pitted for that nose, decided not to wait for teh HRT cars to stop battling eachother, with Pérez going down the middle of them both towards Turn 11, and then after Vitantonio Liuzzi and Dnaiel Ricciardo touched in T12, Kobayashi was able to get down the inside of both of them at the same time at T14.
Button v Webber, 1st Stops:
By lap 15, Jenson Button had spent a couple of laps defending from Mark Webber (who had a great chance to get his first win of the season now that Vettel was out of the running) despite his McLaren having a KERS failure. He was able to stay ahead out of T8, but at T11 Webber was charging towards him. The Australian then braked too early to get down the inside, but Jenson locked a wheel up and slid wide, allowing the two cars to be neck-and-neck, but Button knew the next two corners were left-handers, so he dropped back from the right side of Webber at T12 and straightened the exit of T13, cutting back under him to get up the inside at T14 and get back ahead of Webber. Behind them, an ever-closing Felipe Massa then pitted in for new Option tyres. Next lap, Lewis Hamilton pitted in from the lead, followed by Alonso, who was just 1.9 seconds behind as they both darted into the pits. McLaren put new Options tyres on Hamilton 0.4 seconds faster than Ferrari could manage for Alonso, so the top two didn't change places. Webber and Button's battling had effectively consigned them to racing for 3rd and 4th positions, so Button came in on the same lap as Hamilton for more Option tyres. Mark Webber stayed out until lap 18 before putting new Options on, playing a different strategy that wouldn't prove effective, partly because a slow pit stop of 9.4 seconds, thanks to a stuck rear wheel, after which he had to wait for Nico Rosberg before exiting his pit box. In his frustration he ran very wide out of Turn 3.
By lap 18 or so, the race had settled down, even though Jenson Button, Felipe Massa and Mark Webber were almost withint a second of eachother. On lap 29, Webber was within DRS range of Massa, but as the Red Bull RB7 is designed and set-up more for corners than straights, it didn't really amount to anything. Meanwhile, Pastor Maldonado was seen by the stewards as not obeying the blue flags that tell slower cars to let the leaders lap them, and was given a drive-through penalty. Lewis Hamilton had by this point accumulated a 4.6-second lead. Next lap, Massa slid around at Turn 7, allowing Webber to get alongside him and pass into T8 using DRS, but the Aussie out-braked himself a little and slid wide, but gave Massa no ground. Unfortunately for him, Massa had DRS in the next corner and exploites Webber's apparent struggle with that particular braking zone and retook 4th place. The lap after that, Jenson Button's KERS returned and he subsequently set a personal best lap time. He said after the race that it kept coming and going every two laps or so.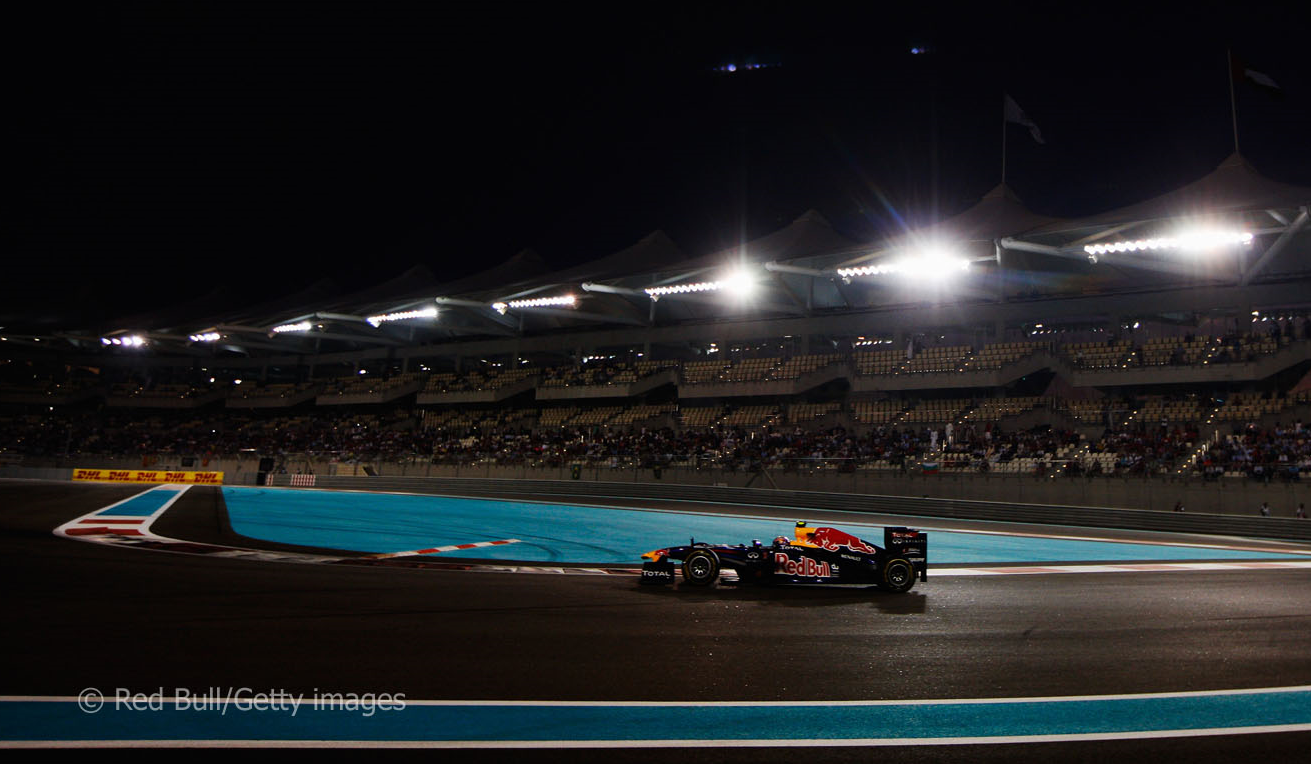 On lap 36, Mark Webber pitted again, but for another set of Option tyres, meaning that with less than 20 laps to go, he still had to make the mandatory change to the slower Prime tyres. Button, meanwhile, switched onto Primes, meaning he could go to the end of the race. On lap 37, Bruno Senna was penalised for ignoring blue flags like Maldonado. Lewis Hamilton stayed out until lap 40 before having another lightning-fast pit stop, changing onto Prime tyres and temporarily losing the lead to Alonso. Rubens Barrichello, the most experienced man in F1 and having a lowly weekend, decided to pull a sneaky move on Lewis Hamilton at T8, which Lewis didn't appreciate. Further back, Webber had closed back up to Button again. On lap 42, he muscled his way past the McLaren at T8, but of course Button had DRS going into T11, except this time, with Webber on fresh options, Button decided not to fight a losing battle, knowing the remaining Red Bull driver would have to pit again. Alonso pitted on lap 44, but right behind an HRT. Could Ferrari make the stop faster than Hispania Racing Team? They could, even with a 5.2-second stop (compared to Hamilton's 3.6 seconds), but Hamilton regianed the lead.
Mark Webber still had to pit for Primes, and there was a risk of him dropping behind not just Button but Felipe Massa as well, that is until the Ferrari number two dropped the back end into turn 1 on lap 50 of 55, sliding to a halt on the outside and rejoining, but losing about 5 or 10 seconds in the process, and when you lose time in motorsport, you can never get it back. On lap 52, HRT rookie Daniel Ricciardo was spotted at the side of the road with a pourly car, not quite making it to the end of the race. Rather than recover the stricken HRT car, the stewards just yellow-flagged that section of track (between turns 15 and 16) until the end of the race. Maybe they were all too busy buying countries or finding a Sunday wife to go with their others for each day of the week...
And so Lewis Hamilton picked up a win, his third of the season (the others being China and Germany), 8.4 seconds ahead of a Fernando Alonso that was determined to the very end, as ever, and arguably out-performed his car. After finally pitting in for Prime tyres on lap 54, Mark Webber conceded third place to a tash-tacular Jenson Button after an eventful race, and Felipe Massa was well behind in 5th. Not quite the result that was predicted by most, but of course, no-one anticipates first-lap punctures with no apparent provocation. This result means that Jenson Button has secured second place in the World Drivers' Championship, and is officially the only McLaren driver to beat Lewis Hamilton in the championship thus far. Considering one of Hamilton's former team mates is Fernando Alonso, that's quite something despite only being the third team mate to Lewis. After a weekend off, it's the 19th and final race of the 2011 Formula 1 season at Sao Paolo in Brazil, home circuit to Felipe Massa, Rubens Barrichello, and Bruno Senna. Last year, Williams rookie Nico Hülkenberg somehow managed to qualify in pole position for this race. Can you imagine if Bruno Senna did it this year? The crowd would drown out 24 screaming 2.4-litre V8s effortlessly. We'll see...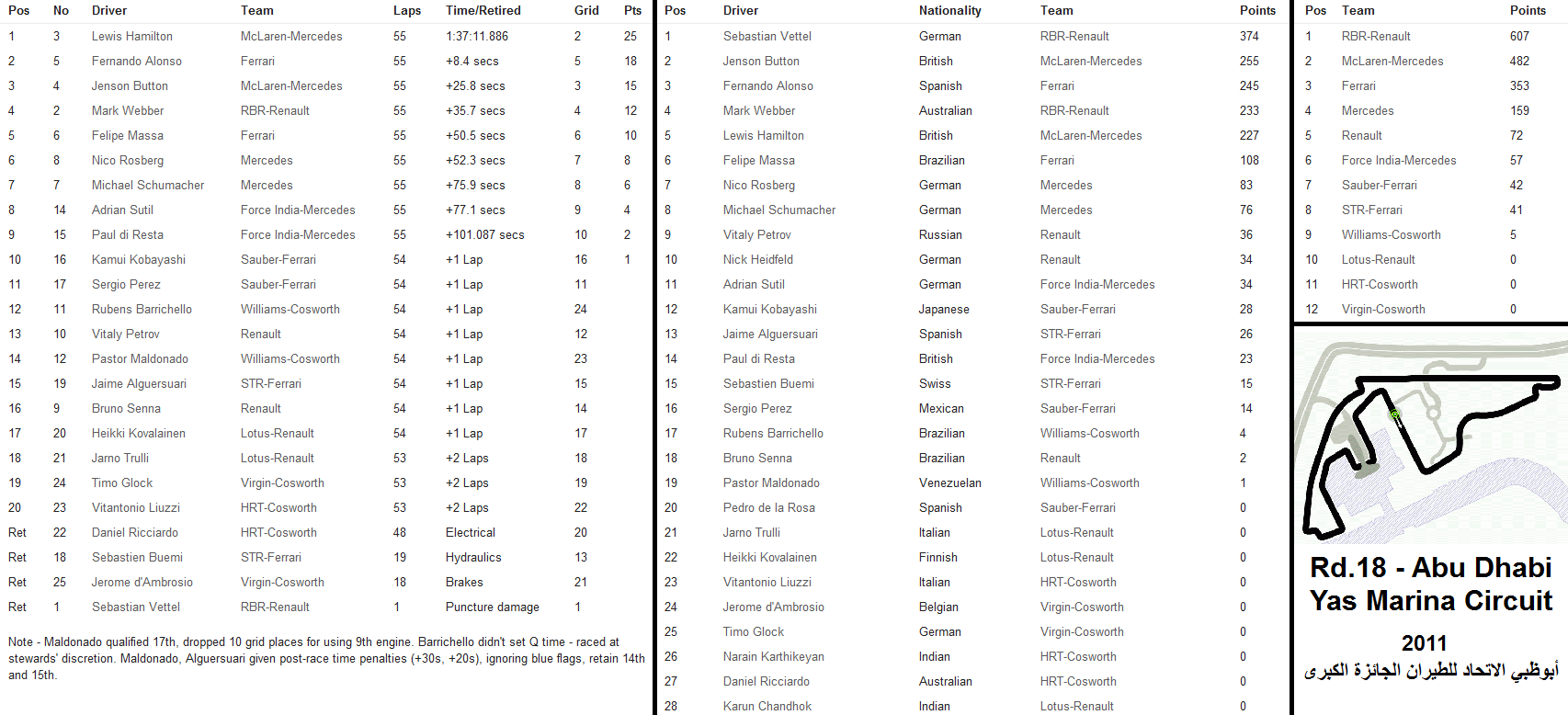 Click to open in a new Tab