2012 McLaren MP4-27
Quite a lot happens between Formula 1 seasons. Rules can change, drivers can retire, return and realise their dreams of F1 stardom at last with their first drive, and teams can change as well. Here's a roundup of all the stories and updates between the 2011 and 2012 Formula 1 seasons, the latter of which starts at the Australian GP on the third weekend of March. Also, there's some serious gossip about Lewis Hamilton and Adrian Sutil at the bottom...
News highlights:
(28/11/11)
Patrick Head
has ended
his direct involvement with the Williams F1 team, after co-founding it with Sir Frank Williams in 1977. He is still a shareholder, and will now move into Williams Hybrid Power, which does things like the energy-recuperating flywheel
I saw
at the Goodwood FOS, which was used by Porsche in the 911 GT3-R Hybrid to win the 2010 Nürburgring 24H. It was a shame for him to leave the team after their worst-ever season, something he didn't expect. The weekend between the Korean and Indian GPs marked seven years since Williams have won a race, which was achieved by Juan-Pablo Montoya at the Brazilian GP in 2004...
(5/12/11)
Mercedes has had a good winter so far, with their factory team deciding to race with
AMG sponsorship
on their 2012 cars, promoting their in-house tuning arm, and Surrey-based McLaren-Mercedes becoming the first ever
carbon-neutral Formula 1 team
. Well, I guess it's easy to be carbon neutral when you're not racing the cars any more.
(8/12/11)
Famed Formula One medic Professor Sid Watkins
has stepped down
as FIA Institute President after eight years in the role, marking his retirement from full-time involvement in motorsport after a career spanning 50 years. The neurosurgeon was promoted to the highest medical role after his close friend Ayrton Senna died in 1994, ensuring that safety in the sport increased tenfold. As a result, there hasn't been a dead Formula 1 driver in over 17 years.
(15/12/11)
After Colin Kolles
left Hispania
Racing Team on 15th December, his position as team boss has been filled by
Luis Perez-Sala
of Spain, who raced 26 Grands Prix for Minardi from 1988-89 and has been promoted from being the team's sporting advisor.
(1/1/12)
1992 World Driver's Champion Nigel Mansell and aerodynamic wizard Adrian Newey picked up
New Year's Honours in 2012
, with Mansell getting a CBE for services to children and young people, and Newey getting an OBE for services to motorsport. Sir Frank Williams once said that to make Formula 1 a truly fair and even sport, you would have to ban Adrian Newey! The 55-year-old has engineered cars responsible for 8 World Driver's Championship titles, including Mansell's Williams in '92, who showed the kind of domination we've been seeing from Red Bull, where Newey currently works. Yup, still got it.
(4/1/12)
Japanese drive Kamui Kobayashi auctioned off a
specially-designed helmet
to raise money in order to aid his country after a devastating "perfect storm" of earthquake, tsunami and nuclear disaster. The helmet, featuring a special design by Linkin Park member Joe Hahn, raised $19,000 for the charity Music For Relief, which in total has raised $700,000 to aid Japan.
(9/1/12)
After joining Lotus-Renault GP, Kimi Räikkönen
will test
a 2010-spec Renault ahead of the first test session at Valencia, allowing him a chance to re-familiarise himself with Formula 1 cars after a stint rallying with Citroën and a brief foray into American oval racing. The Finn, 32, is
very positive
about joining Lotus after meeting with the team and going to a seat fitting for the new car.
(11/1/12)
Meanwhile, Polish driver Robert Kubica has
injured his leg
, fracturing his right tibia, a bone he broke in his horrendous crash in a rally car in Andorra a year ago when he nearly severed his right arm. This definitely puts him out of the running for this season, although complications with the Renault team (now Lotus) that he was with have meant that even in 2013, he most likely won't be racing with them. His clear skill is not represented by his win record of just one, the 2008 Canadian GP, but he had lacklustre cars for the next two years (although Renault improved through 2010). Nevertheless, he is being linked to Ferrari, as has been the case for a while, as a potential replacement for Brazilian No. 2 driver Felipe Massa next season. If this actually happened, he would be the second Renault driver to move to Ferrari after much rumours to that effect, the other of course being Fernando Alonso.
(17/1/12)
Bruno Senna
fills the second seat
at Williams F1, meaning that Rubens Barrichello is currently out of a drive for what would've been his 20th Formula 1 season, which personally I think is sad. I wanted him to reach a nice round 20. The only spot left to fill at this point is the second seat at Hispania Racing Team, who currently has Spañard Pedro de la Rosa at the helm of one of their cars. Oh, I'm also forced to point out that Senna is racing at Williams 18 years after his uncle Ayrton raced there in his final year of, well, everything...
(23/1/12)
Lotus-Renault's clever new Reactive Suspension system, which uses brake torque to prevent the car diving under braking to keep the car level and improve aerodynamics, has now
been outlawed
by the FIA, according to a Williams spokesperson. This is after the system received initial approval from the FIA, as it doesn't count as driver-activated aerodynamic aid or active aero device, because it's purely mechanical. Alas, they appear to have decided it's still not allowed. Renault have tried hiding an active ride height system in the front of the car before, and it was banned then too. If at first you don't succeed...
(23/1/12)
Mark Webber will be the first of the two Red Bull drivers to sample the new RB8 in testing, before handing it over to Sebastian Vettel for the last two days of the four-day test at Jerez starting next Thursday (7th Feb). The car will be revealed three days earlier. Maybe setting times for Seb-Vet to beat is less demotivating than watching him set times you don't beat...
(25/1/12)
Kimi Räikkönen has officially polished off all the Magnums and Smirnoff within a mile radius of the Paul Ricard Circuit in Spain, as he much enjoyed the two-day test in a 2010-spec Renault. He drove a total of 666km, which should make him beastly in Jerez next Thursday. He has apparently integrated with the team well and is looking forward to the season.
More here
.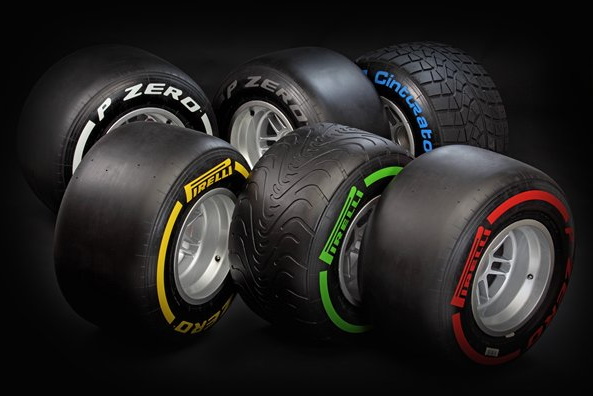 (25/1/12)
Pirelli have announced their
new tyres
for the 2012 season. Surprisingly, they're round pieces of black rubbery stuff with something painted on the outer sidewalls, a major change to last year. All right, seriously though, the new "P Zero" dry compounds for this year (still
Super-Soft
,
Soft
, Medium [white] and
Hard
) will each be softer, thus grippier, have longer peak performance, but still last the same amount of time. So in other words, they reach their peak faster than last year's tyres, have more overall grip, but still "drop off the cliff" at roughly the same point as before. As for the "Cinturato" rain tyres, the
Intermediate
compound is unchanged from last year, while the
Full Wet
compound has been improved. Amusingly, Pirelli reckon teams want their tyres again because of the exciting racing they provided. Yeah, it can't possibly be that they want the same tyres for more consistent data to work with when devising pit strategies or anything like that...
In terms of
technical updates
, the two biggies are the lowered nose cone, designed to lower the risk of the nose hitting another driver in a T-Bone collision, and the ban on blown diffusers, meaning exhausts must now exit away from the rear diffuser, sticking out of the side pods. McLaren and others are firing the exhaust gases at the lower part of the rear wing now. The lack of forced exhaust also means you won't get that weird grinding or machine-gun noise when they go through a corner, which is nice. On top of those, there's also the ban on a new suspension system mentioned above, which could act as a mechanical aerodynamic aid.
So far the only car reveals have been McLaren and Caterham, with very, umm,
differing designs
. There will be two more tomorrow, which you can find on the homepage when they appear on The Intertubes for me to copy and paste here. Ferrari should've unveiled their car by now, but unfortunately it's been much snowier in Maranello than it has in Berkshire, so they had to
cancel the launch event
. After tomorrow and Red Bull's reveal on Monday, the rest of the grid will show itself at the first test, which is on Thursday 7th February. It's the first of three long weekends for testing, all of which are as follows:
First Testing - Jerez
February 7-10

Second Testing - Cataluña
February 21-24
Third Testing - Cataluña
March 1-4
I will try to keep an eye on how it all goes. In the meantime, the
Teams and Drivers
for 2012 will be as follows:
Red Bull Racing Renault
1 Sebastian Vettel (DEU)
2 Mark Webber (AUS)
McLaren Mercedes
3 Jenson Button (GBR)
4 Lewis Hamilton (GBR)
Ferrari
5 Fernando Alonso (ESP)
6 Felipe Massa (BRA)
Mercedes GP
7 Michael Schumacher (DEU)
8 Nico Rosberg (DEU)
Lotus Renault
9 Kimi Räikkönen (FIN)
10 Romain Grosjean (FRA)
Force India Mercedes
11 Paul Di Resta (GBR)
12 Nico Hülkenberg (DEU)
Sauber Ferrari
14 Kamui Kobayashi (JPN)
15 Sergio Pérez Mendoza (MEX)
Scuderia Toro Rosso Ferrari
16 Daniel Ricciardo (AUS)
17 Jean-Eric Vergne (FRA)
Williams Renault
18 Bruno Senna (BRA)
19 Pastor Maldonado (VEN)
Caterham Renault
[Formerly Team Lotus]
20 Heikki Kovalainen (FIN)
21 Jarno Trulli (ITA)
HRT Cosworth
22 Pedro De La Rosa (ESP)
23 Narain Karthekeyan (IND)
Marussia Cosworth
[Formerly Virgin Racing]
24 Timo Glock (DEU)
25 Charles Pic (FRA)
Lastly, here's some gossip:
Like, Oh Em Gee guys, there's like totes some serious
D.R.A.M.A
happening up in here!
You see,
Adrian Sutil
was all like "Take this, du Schwein!" at Eric Lux after the 2011 Chinese Grand Prix, and now a judge was all like "
BAN HAMMER LOLZ
" until he ended up with a suspended 18-month term and forced €200k donation to charity.
This you know by now, but after his total BFF Lewis Hamilton failed to appear to the court case, due to its proximity to the MP4-27 launch, Adrian's all like "He's a coward" and
shit like that
, saying like "I don't want to be friends with someone like that, if you ask me he's not a man". LEIK OMG BURNED, RITE?! So now because Lewis doesn't mind making jokes about stuff that the press can construe as accusations of racism or whatever (Monaco '11), McLaren
have stopped him
from responding in case he says the wrong thing or, like, stirring occurs. Safe. When a reporter asked about it though, after a Macca spokesperson intervened, Lewis said "I'll listen to him". But what does this mean??????
Seems like Hammi's having another break-up. Can you believe it? Like, SCANDALOUS peeps!
And stuff like that.