Recently, Kia have released/leaked sketches of its upcoming flagship saloon, dubbed 'K9' for whatever reason, and while I can't tell you anything about it - because no-one else can, seeing as these pics are all we've got - I can at least speculate over their, er, styling inspiration: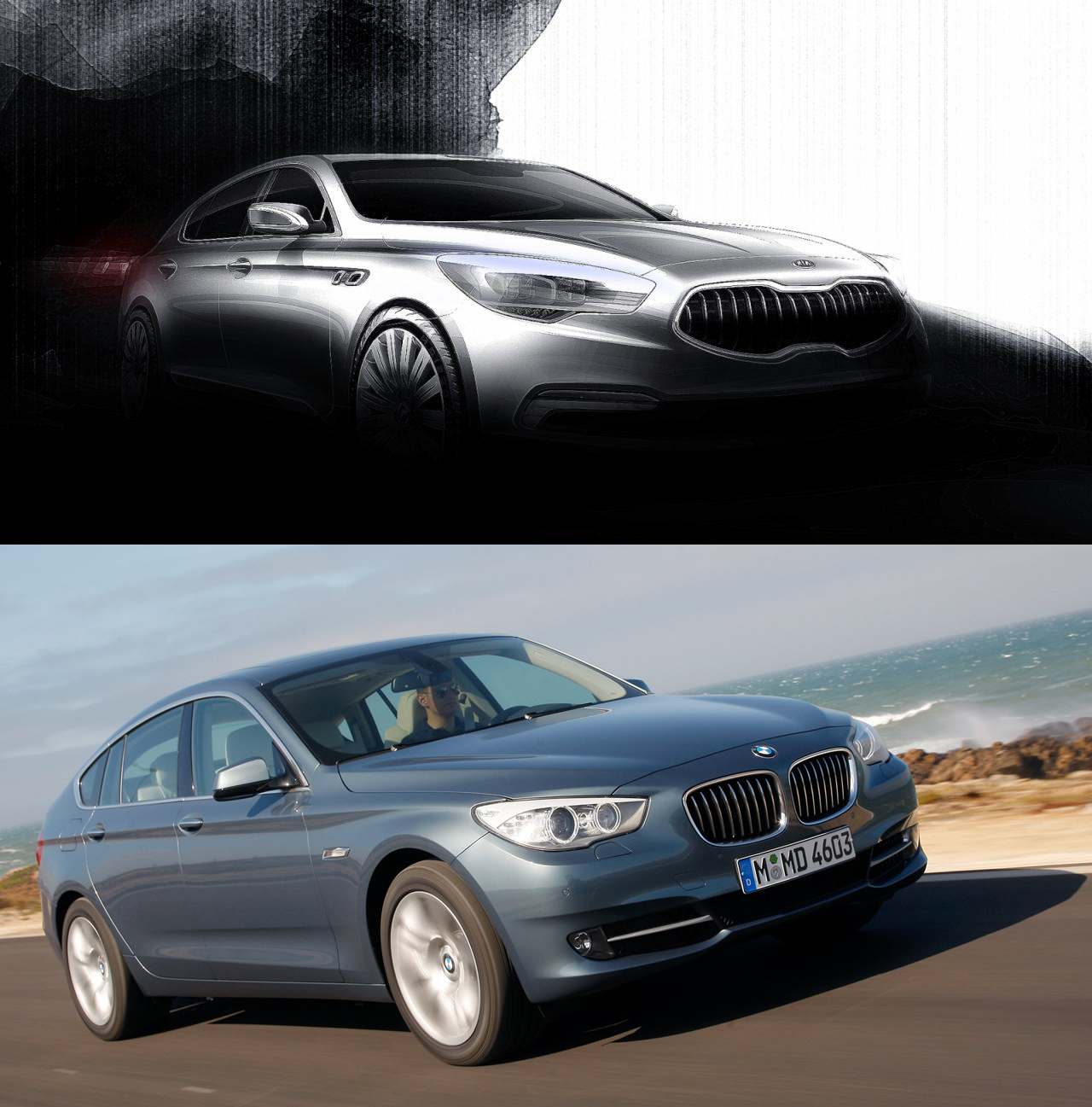 Why would you copy this?
(Thoughts on this thought and more after the jump)
Now, I've said before that Korean joint company Hyundai/Kia have had a habit of copying European car makers, but went on to say that they are now moving it on to make their own styling direction, their own 'look', so hopefully the finished car won't look like a BMW 5-Series GT at the front, which it definitely does now. The Kia "bottle-opener" grille is not a new thing, but this one looks like they joined BMW's trademark "double kidneys" together in the middle. The headlights do all the same things, the side crease and door handles do the same thing (although the Kia also has some little side holes akin to a Maserati Quattroporte), even the shut-lines for the bonnet are in the same place!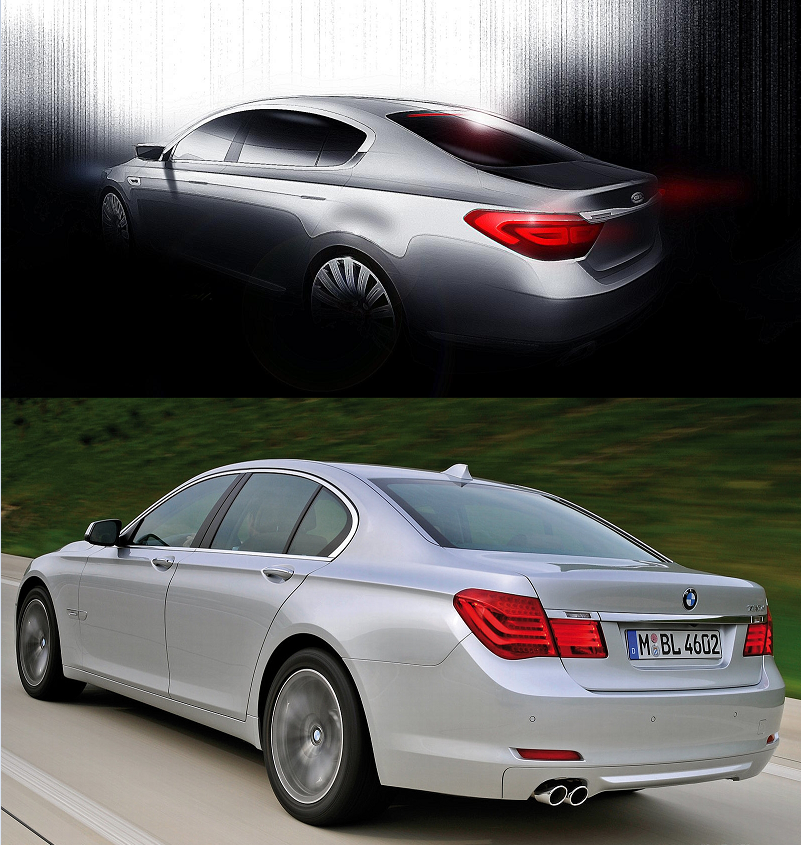 It doesn't get terribly original at the back either, where either a 5-Series (F10) or a 7-Series (F01, pictured) has provided inspiration, with a thin chrome bar bridging the angular tail lights together and housing rectangular reverse lights at each end. The lights attached to it may follow the same basic forms, but to be fair they're not straight copies by any means. The window line looks roughly similar to the "Hoffmeister Kink", but that might just be me clutching at straws now to find more likenesses and pad this paragraph out a bit more. So, what more can I say? Ah yes, lasers. I mentioned lasers in the title because of the whole K9 thing, but actually BMW are looking into a new way of seeing in the dark. First lights, then infra-red cameras, now
with lasers
, the idea being that they're smaller, more efficient and 70 lumen lighter (as if an X5 with those stupid irritating Xenon lights wasn't annoying enough in the dark...), with another advantage apparently being the ability for the headlights to "highlight" a pedestrian by pointing at him/her with a focused beam. Presumably, if you drive with your high-beams on and encounter a pedestrian, you will shoot a perfect cylinder of light right through their torso before you run them over. It seems only right that BMW should be the ones to pioneer such technology (production laser beam headlights are expected within 5 years). Maybe Audi's rival to this will shoot four rings into pedestrians and speed cameras. While Mercedes-Benz's lasers would be perfectly good as well, I can't imagine what AMG lasers would be like. Forget night visibility, urban laser warfare would brake out, with massively overpowered and sideways AMG lasers cutting people in half and blowing tanks to smithereens.
OK, maybe I'm getting a little carried away now. Let's move from built-in death rays back to drawings of a Kia saloon. The K9, or KH or "Opirus" depending on where you read about it, will be rear-wheel-drive and borrow the platform and 5.0 V8 from the
Hyundai Equus
. Soon-Nam Lee, Kia's Director of the Overseas Marketing Group, says of the K9: "Our all-new flagship sedan integrates all of our key capabilities such as design, performance, high-tech features and infotainment into one striking model." That's something that could be said by any car company making a big luxury car, so even the marketing statements are derivative. While the Equus that lends the K9 its DNA is on sale in North America, China and South Korea, the fact that this version was caught testing
in Europe
suggests it will be sold globally. Best of luck to it - there probably aren't that many people out there willing to boast about owning a V8 Kia, which would explain why the Equus isn't sold in the very proud continent of Europe.
Lastly, I'm perfectly confident that the lasers Kia uses in its headlights three or so years after BMW invents it will be perfectly acceptable... and in no way secret deadly weapons.