A good car is two things. It is a beautiful mobile sculpture, and it is an engaging and thrilling machine. What we have here are two cars that are focused on opposite sides of this coin, one from a big-time Italian design house, and one from a small-time German sports car company. Can you guess which one's which? Well yes, of course you can. Hopefully. In the cream corner, we have the Pininfarina Cambiano Concept, while in the part-red-part-naked corner, we have the Roding Roadster 23. Time for round two of the sporty saloon-versus-flyweight-sports-car pointless wrestling league!
In case you missed round 1, it's
here
and compares a Porsche with what used to be a Porsche. This matchup is equally unfair, but still, it shows two different ways to appeal to a car fan. Let's go from left to right.
This is the Pininfarina Cambiano concept car. It's named after the legendary Italian design house's home town, and is apparently inspired by their 1957 design for the
Lancia Florida
, a car that revolutionised car design by swapping the round-edged "pontoon" style it ushered in with the Cisitalia 202 (that's the sports car from LA Noire, gamers) with thick, powerful angles that came to influence American muscle cars massively, and a cool rear window that was inset into the car and also created little tail fins, the likes of which subsequently appeared on everything from a Ferrari 250GT to the Peugeot 404 to the humble Trabant. Of course, times have moved on since 1957, so the rear window is the only direct reference there is on the Cambiano. The rest, it has to be said, isn't so revolutionary, featuring subtle creases that rise along the front wheel arch or otherwise give it some flowing surfacing, like the Infiniti Emerg-E Concept a couple of posts down, but much less extreme. The one-piece grille-headlight combo reminds some of the current crop of American muscle cars, particularly the Chevrolet Camaro, but I was personally reminded of the SAAB PhoeniX Concept from a year ago (SAAB's last concept car, I'm sure I don't need to tell you), while the shark fins in the front corners are perhaps reminiscent of the Maserati GranTurismo MC Stradale, or the facelifted Jaguar XKR's cheekbones. Mentioning the big Maser, that heat vent behind the front wheel is pure MC Stradale.
As well as being inspired by their own past, Pininfarina have nicked an idea off Hyundai and given it asymmetrical doors (à la Veloster), with one on the left, where the driver sits, and two on the right, so you're simultaneously driving a luxurious 4-door sports saloon and a big 2-door GT coupé, a bit like owning a 5-Series and a 6-Series at the same time without buying that ridiculously expensive 6-Series "GranCoupe" thing. Mind you, if they were to produce this (which they won't, what with not being a car company and all), it wouldn't be any cheaper than a 6er GC or a Fisker Karma, because the powertrain is quite interesting. Well, it would've been a year ago, but now we have the Fisker, the GM Volt/Ampera, and the Emerg-E, making this "another range-extending EV". Each wheel gets its own 80-horsepower electric motor (making 320 horsepower overall), but the interesting bit is the extender, which is a diesel microturbine. There's not much more detail on the powertrain, but then this is a concept car, so we should feel grateful to be given anything about what's underneath the pretty body.
Overall, I really like this car. Lots of cars these days are overstyled to try and fight for your attention, but this has some nice surfacing and some simple, well-placed details (and that indented rear windscreen). It's well-done without being overdone, the kind of delicate balance only a long-serving design house can get quite so right.
A very nice sculpture. Now to the excellent machine.
This is the Roding Roadster 23. It's probably named after a guy called Roding, and is inspired by precisely no influential styling concept, except maybe the colour scheme on a Bugatti Veyron, but that's not what this car is about. Nope, this is a driving machine. The major internals are from a BMW 335i, but I'm ok with that, because BMW is the only company that sell a rear-wheel-drive car with a straight-six and a manual gearbox that also happens to be a best-in-class executive saloon. But what happens when you take those sporting ingredients out of a business runabout and put them into a mean little raceabout? You get one tasty recipe, is what. The Roding Roadster has a carbon fibre chassis and body panels, so it only weighs 950kg, and that mixed with modern aerodynamics should made the 3.0-litre straight-six turbo engine should be notably more efficient in this car, because it has much less weight to haul around.
The transversely mid-mounted sixer sends 320bhp to the rear wheels via a 6-speed manual gearbox (which is always the correct type of gearbox) and a TORSEN limited-slip differential (the right kind of LSD), as well as 331lb/ft of torque, available from a mere 1500rpm all the way up to 4500rpm. Those numbers make it a sports car rather than a supercar, but still, the 950kg car gets from 0-60 in just 3.9 seconds and on to a top speed of 177mph, which is not slow. Certainly, a Lotus Exige S would look at those figures and worry, although it ought to match the Roding's 35mpg with its little Toyota straight-four. Hopefully, with state-of-the-art fully-independent suspension featuring CNC-milled double A-arms and dampers with "premium valve technology", it should be able to match a Lotus in the bends as well. For hardcore trackday folk, the clever dampers, ride height, toe/camber angles and front and rear anti-roll bars can
all
be adjusted, whereas Lotus just gets it all right in the first place. Still, it means you can play your favourite racing sim in real life, spending hours honing your suspension setup and so on.
Whether you're roaming roads or racing Radicals in your Roding Roadster, relish in the realisation that you're rapidly reeling in the horizon. In a corner at 70-odd miles per hour, you can pull 1.4G, which is a lot for a road car with no spoilers. If it all gets a bit too rapid, 328mm brake discs with four pistons up front (and two out back) should result in really rapid retardation... Isn't alliteration fun?
No-one's driven it yet, so it's hard to say whether it's as good to drive as an Exige, and pricing hasn't been announced yet, so we don't know if all that carbon fibre and BMW hardware has made it too expensive to compare with the Lotus anyway, but hopefully more will be revealed at the Geneva Motor Show, which is now iminent. What might also jack up the price is the two-part targa roof, Alpine stereo with a 6.1" touchscreen, 18" lightweight alloy wheels which can be shod in Toyo Proxes R888 semi-slick tyres (which ought to help its cause), two-tone paint job, a leather interior with Recaro seats and 4-point harnesses, a "race mode" that sharpens the throttle and improves the exhaust note off-throttle, and finally a GPS recorder with a lap timer and a stopwatch. Fancy.
So to sum up, what we have here is a straight-six roadster with 336bhp/tonne - as a frame of reference, a 542bhp Nissan GT-R has a power-to-weight ratio of 313bhp/tonne - with a clear focus on being a driver's car. While both vehicles here make 320 horsepower, the Roding Roadster 23 (guess how many they're making) can do for more with it, at the expense of luxury and styling, which, while not necessarily ugly, is very functional-yet-modern in a way best done by Germans. With bare carbon fibre doors and a complete lack of curves though, you couldn't really call it elegant after looking at the Cambiano above.
While some prefer form over function and would thus prefer the Pininfarina Cambiano Concept (which is tough, because they're not making it), others prefer function over form and look eagerly at the Roding Roadster (which is tough, because they're only making 23 of them). Personally I can appreciate both in their own ways. I love a good-looking car to the extent where I would but an Alfa Romeo over an Audi, but I also love the machine, and as someone very enthusiastic about actually driving cars, I also love the Roding Roadster and other cars like it. Perhaps I should take it upon myself to design a car that combines both to make a sexy MR-layout lightweight sports car...
...or I could just wait for Alfa Romeo to cut the roof off the 860kg '4C', as previewed by my amateurish GIMP skills: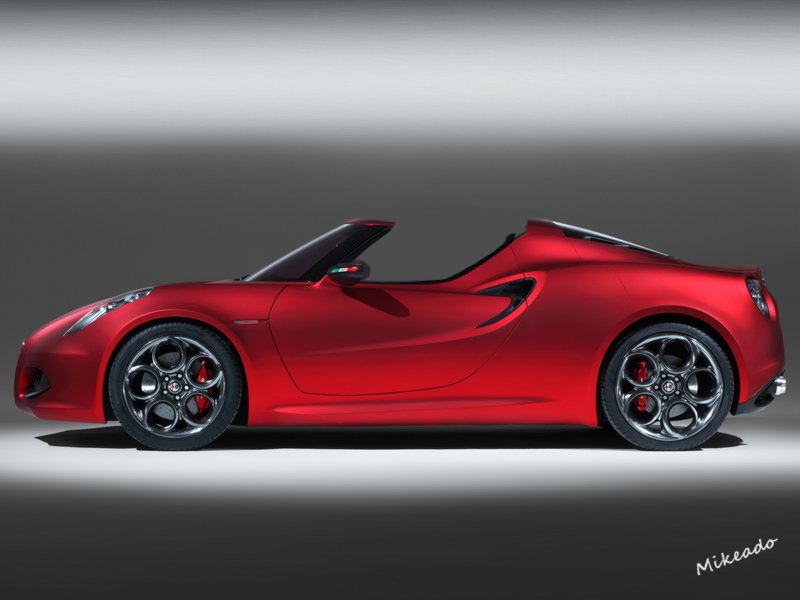 201π Alfa Romeo 4C Targa Concept
Well, I like it.