Renaultsport Clio 182 Trophy
So Euro 2012 has gripped the televisions of homes and pubs alike. England drew 1-1 with France recently, so as a deliberately coincidental post, I've decided to do a short profile on a car that shows how England and France are level in another way: our love of hot hatches. You see, they love making them (205 GTi, Renault 5 Turbo, AX GT, DS3 Racing, Clio 200, Megane 250, 306 GTi-6, etc.) and we in Britain love buying them. In fact, in 2005, the UK was buying 50% of all Renaultsport products, and so the makers of arguably the greatest hot hatches of modern times rewarded us with a UK-only special limited edition of the Clio 182: the Trophy. Like a Cup, but more expensive, shinier and better.
The Trophy is set apart from the 182 Cup (itself a lighter, stiffer version of the Rneaultsport Clio 182) by a bigger Clio V6-style rear spoiler, different Recaro sports seats that are lower and improve the driving position and interior space, race-spec dampers with their own oil reservoir, 10mm less ride height and stiffer springs (by 20% up front and 15% out back). These upgrades better control the 182bhp 2.0-litre Inline-4 when it gets going, giving the Trophy more grip and better chassis control, according to reviewers. You even get a little numbered plaque like in a Clio Williams. All this comes together to make one of the most highly-rated hot hatches ever made, with racing experience and technology combining with light weight and a manic, high-revving engine that reached peak power at 6500rpm and went on to 7250rpm before you change gear manually. In fact, when it landed seven years ago, it beat the likes of the then-new Lamborghini Gallardo to
evo
magazine's Performance Car Of The Year award.
They're cheap, too. Brand new, they were about £15,500 (£1700 more than the Cup), but now they're about £5000, whereas non-Trophy 182s are dipping as low as £2000. This is largely because Renault only made 550 of them - with only 50 of them going outside of the UK, all to Switzerland. Find one that's been maintained properly and reliability will outstrip interior build quality, which isn't great. There's a full
buyer's guide here
for all that stuff though. The point is that this car was the only hat hatch of its time from the old school. It was light, simple, precise, chuckable and a little rough. Handbuilt in the old Alpine sports car factory, nothing contemporary could match the 172/182 for 205 GTi-style visceral entertainment. It didn't understeer like you might expect a powerful FWD car to do, because it borrowed technology and much expertise from the Clio Cup racing cars that race during BTCC weekends. In fact, you could even take this little French hatchback on track days and not feel embarrassed. In many ways the Trophy run-out special is the Carrera RS 2.7 of Renault Clios. And now you can buy into all that for a mere £5000. Oh yeah, and an insurance group of 17. I always forget that part...
Speedline alloys finished in anthracite paint, Capsicum Red paint and a little silver 'Trophy' badge ID the ultimate FF Clio.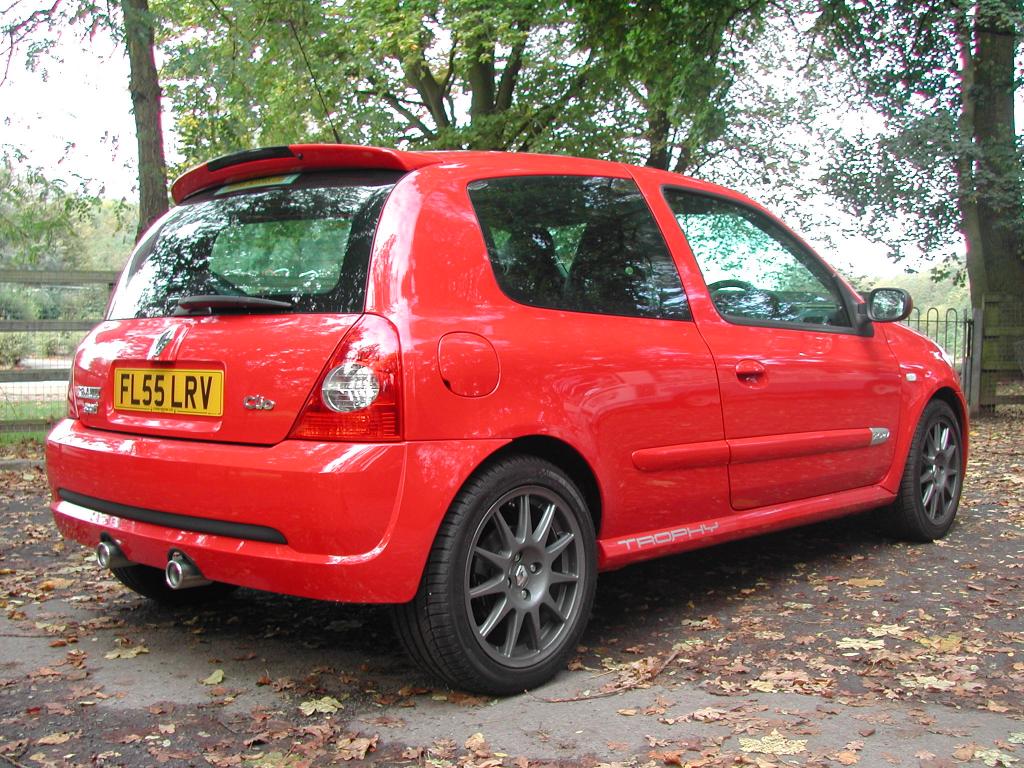 Twin exhausts run through the spare wheel well. Did you really need a spare wheel anyway?
I haven't driven one, but
this guy has
. He loved it to bits. See? England and France can get along after all. It just takes some hot hatch wizards turning a student's car into a semi-Touring Car.