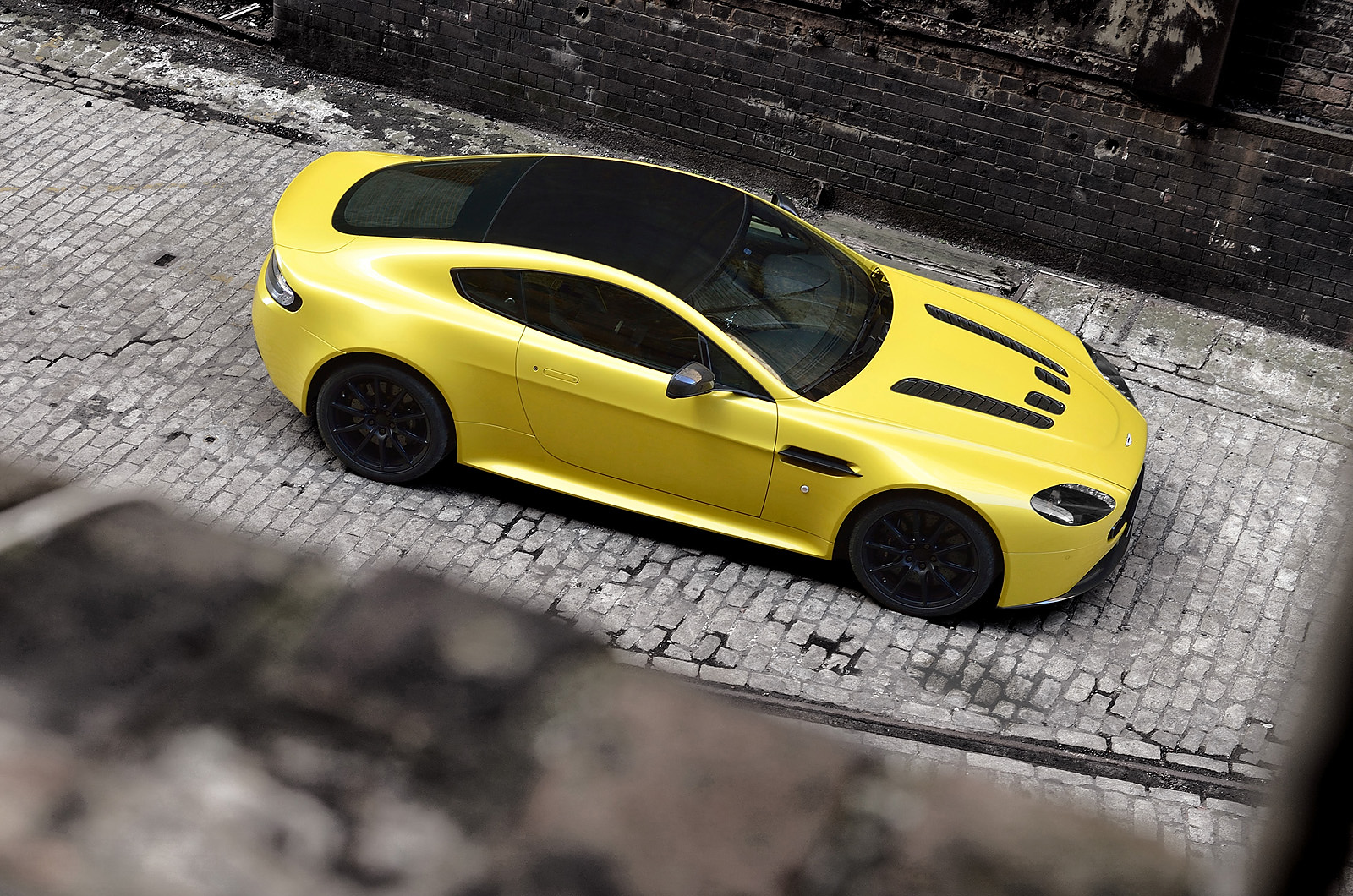 Black-on-yellow look good on pretty much anything. Or maybe it's the AMV12 S that looks good in anything...
In February 2011 when I started this blog, one of the first proper things I wrote was about how Jeremy Clarkson's moist-eyed prediction of supercar dystopia at the end of series 13 of new-age TopGear in a film that centred around the Aston Martin V12 Vantage
was in fact wrong
, and that supercars will continue on for a long time whether he doubts it or not. Happily, as part of their centenary shenanigans, Aston Martin has gone and proven him wrong once and for all by replacing the V12 Vantage with this sexy little bee: the V12 Vantage S. At least, it seems they have...
The V12 Vantage is a bit like an all-British Shelby Cobra, which is probably why it's utterly gorgeous in every way. To make it, Aston Martin simply take their smallest car and shoehorn their biggest engine into it (well OK, they also have to improve the suspension and brakes while negating all that added weight), and because the DBS has been replaced by the AM310 Vanquish, the outgoing AMV12's time was up. But rather than let it die completely, they've decided to keep people's spirits up during the company's 100th year by dropping the Vanquish's fifth-gen, 565bhp version of the long-serving 5.9 V12 into a car originally designed in 2003 to carry a Ford-based V8. The result is a 55bhp jump over the outgoing V12, and 37lb/ft of extra torque as well, making it 457lb/ft overall. Expect it to only go a little bit faster than before. Various other upgrades and changes mean that the S weighs 15kg less as well, not a difference you're likely to notice but nonetheless a move in the right direction. It's still 1665kg, though...
The only real sad part of this is that the 6-speed manual gearbox has disappeared in favour of a 7-speed "Sportshift III" paddleshift one, although it's meant to be all new and fast and stuff. These days, it is actually possible for an extremely good paddleshift gearbox to be a legitimate replacement for what's normally the driver's choice, according to road testers, but whether that happens here remains to be seen. By only using one clutch, Aston say this gearbox is actually 25kg lighter than the old car's manual 'box, and is capable of "motorsport shift speeds", so there's hope.
As is the way these days, the AMV12 S has three-way adjustable suspension (supplied by Bilstein and also seen in the new Vanquish), with Normal, Sport and Track modes letting you fine-tune your driving experience by deciding how hard the ride is and how reactive the throttle pedal is. As an added bonus and part of a two-mode "Servotronic" steering system, Sport and Track modes have different levels of steering weight and feel, with Track adding more of it. This is the first time the Vantage model has had either feature. Also helping you out on trackdays are Brembo carbon-ceramic brakes adapted from the One-77 hypercar and Pirelli P Zero Corsa rubber, although all-weather P Zeros are now optional. Topping off the driving aids is two-stage stability control you can turn off completely. Finishing off the package is an overhauled interior that uses higher-quality materials.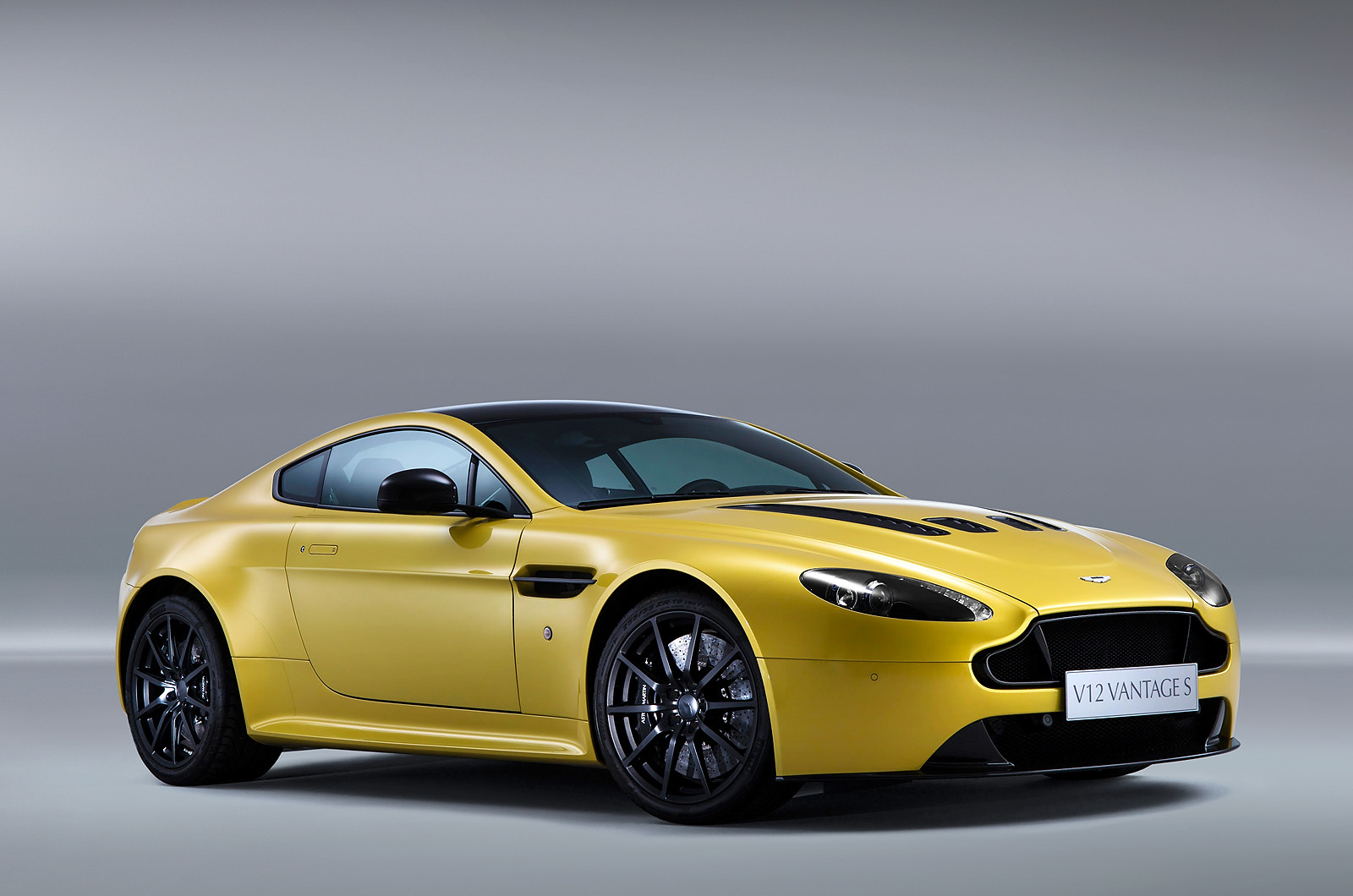 But let's consider something for a moment. The end result of all these changes is a car that has a broader appeal than it did before. The manual gearbox hasn't been left available as an option, it has gone completely. The suspension dampers can now be adjusted to suit a wider range of driving styles, while multi-mode stability control caters to different driving talent levels.
In other words, the car is now less focused.
Aston Martin product development head Ian Minards said that "the fact that it was so focused meant it wasn't for all tastes to begin with. We've responded to that." Why? The V12 Vantage was established as the most hardcore car in the range, the one for people who wanted the best performance car AM could make, the one for people who go out for drives early on Sunday mornings, rather than wafting around the same roads in the afternoon when it's busier. It was for exactly the people that will be disappointed with some of the changes, because it dilutes the experience a bit to please regular (and potential) AM buyers. They may claim that it's lighter, but without the new more advanced gearbox it would actually be 10kg heavier.
This is evident elsewhere in the motoring world too. Take the Renaultsport Clio 200 Cup. This will go down in motoring history as one of the greatest hot hatches ever made. No hot hatch group test was safe. In a TopGear magazine group test of 11 cars from 7 manufacturers, it toppled the Abarth 500, every VW GTI and R of the time, the 350bhp Ford Focus RS500, the 400bhp (breathe) Subaru Impreza WRX STI Cosworth CS400, and even its big brother, the faster-but-heavier Megane 250 Cup. It wasn't the best looking and it had quite a boring interior (with serious Recaro front seats), but it was the most exhilarating to drive. The 2.0 naturally-aspirated engine revved to the stars and it was almost as light and agile as its racing counterpart. It was the 997 GT3 3.8 of hot hatches.
This year it is replaced by the Clio 200 Turbo EDC. I actually remember a time when a turbocharged engine was a good thing, but apparently it isn't in some cases, like when it's replacing an exciting, high-revving naturally-aspirated one. Instead of rewarding you for pushing harder, the new 1.6 DFI turbo unit gives you all the torque in the low-mid range, and has a notably lower red-line. It's the difference between a well-written movie with subtlety to the way it delivers an engaging storyline and a Hollywood-style one that just spells it all out for you so you don't have to think as hard and have a good chance of predicting the ending.
Oh, but it gets worse, pipe smokers. Just like the AMV12 S and the new Porsche 991 GT3, the six-speed manual gearbox (as it was after revising it from the original pre-facelift 197) has been replaced with a flappy-paddle one, a DCT here. The result is more weight but faster, smoother gear changes whose balance between speed and smoothness can be fine-tuned using settings on the now much more complicated dashboard, which features a touchscreen interface called "RS Monitor". This gives you the kind of readouts you'd expect to find in a Nissan GT-R, while also letting you play a selection of engine noises through the stereo system. You can choose between the old car, which is proof straight away that the new one doesn't sound as good, or an Alpine A110, or a Renaultsport Clio V6, or even, as it happens, a Nissan GT-R. It's an utter gimmick that should be reserved for electric cars, not something that
should
be capable of making its own engaging engine noise. But clearly it doesn't. You also get the kind of suspension and pedal fine-tuning that Aston Martin has inserted into the V12 Vantage S above, and it's generally been designed and engineered to appeal to as many people as possible. This is understandable when you look at Renault's situation during this economic shit storm we're in. As one local example (to me), in February last year, they had to cut their UK range in half due to poor sales, killing off the Espace, Laguna, Koleos crossover, Wind (a Twingo-based roadster, for those of you that already don't remember) and the child-friendly Modus, as well as closing dealers down. When your most-celebrated model only really appeals to hardcore driving enthusiasts, it's time to broaden its appeal.
But, much as those enthusiasts feared, something has seemingly been lost in the transformation. When compared against the Peugeot 208 GTi, Ford Fiesta ST180, BMW Mini JCW and Nissan Juke NISMO, the car that would previously have swept to victory came fourth.
Fourth.
That's not good enough when the only direct rival the supposed class benchmark can beat is something too tall and completely devoid of steering feel (according to
evo
magazine). Other reviewers have either found themselves making excuses for it or admitting that it's just not as special as the car it replaces, partly because the DCT isn't good enough to make you forget about the old manual gearbox after all. The only glimmer of hope is that Renaultsport develop their cars over time, so its flaws can be ironed out in the coming years. If only they could undo the Model Bloat of the standard Clio...
Whether the same thing has happened to
the new 911 GT3
remains to be seen. That would bring more widespread disappointment.
With that considered, let's return to the original point here: was/is Jeremy Clarkson's belief that supercars are soon to be consigned to the history books a load of moaning nonsense? Well, let's also go back to the V12 Vantage. That has gone from a purposeful driving machine towards being a more mainstream sports GT. Originally it was a fun little project, almost akin to the
Nissan Juke R
although a bit less crazy than that, which pleased people interested in cars as cars rather than as status symbols or transport boxes or whatever. The new one is less like that, a sequel that now has to justify its existence and "make a business case" for itself by adding or swapping the features that buyers in China and America are statistically more likely to want. Sure you can partly blame it on the need for car companies - which are at the end of the day businesses like any other - to survive the economic downturn and not become the next SAAB, but it's still quite a sad sight, because the changes being made to models like these will almost certainly be irreversible afterwards. Thus, while on the face of it the V12 Vantage S laughs in the face of The Tall One's predictions, when you look at some of the details and what they mean, it's not quite as clear-cut as that...
But supercars will, I maintain, still exist. We need something to bridge the gap between pioneering motorsport technology and the normal road cars it will inevitably reach. Monaco millionaires
need
want something to show their wealth and well-off car fans want to enjoy speed machines with more cylinders and performance than you could ever otherwise justify. So, on that front, he was indeed wrong. The Veyron has reignited the top speed arms race and major sports car companies are now making hypercars that really push towards the future with innovative hybrid systems and more advanced lightweight materials. It's called progress, and complaining about or resisting that is fruitless and irritating to read/listen to. Besides, for the time being, if it's purity and manual gearboxes you want, then call the Noble M600 and Hennessey Venom GT to the stage as two examples of hardcore high performance. Or look for your thrills in a different flavour with cars that can't afford not to be focused like the Caterham R600, Ariel Atom 3.5 or the brilliant(ly selfish) BAC Mono. If you just want to have fun then you don't even need copious amounts of money, as the Morgan 3-Wheeler and Toyobaru GT86/BRZ are here to help for £30k or less (or more if you spec up the handmade Morgan).
How long can it last? It's impossible to know, so just enjoy it while it does and if the perennial options disappoint you, keep your eyes open for more left-field choices because they are out there. If all else fails, why not just go second-hand and buy the car you really want, probably for less than you expected? In fact, buy a Clio 200 Cup or a 997 GT3 now, because their value will only go up from here. Why? Because they will be seen by many of the people who buy them as the last of a particular kind.
So, the Aston Martin V12 Vantage S proves indeed just how wrong Mr. Clarkson was in that video. Unfortunately, the answer is "not 100%"...