Kamui Kobayashi (main driver), Robin Frijns (reserve driver) and Marcus Ericsson (main driver)
It's time to dust off those helmets, people! Formula 1 2014 is about to clear its throat and give us its shiny new V6 dawn chorus, with car reveals happening at the end of this week. Of course, if you were following the ins and outs of The Sebastian Vettel Show last year, you'll know that the 2013/4 Silly Season has been one of the silliest in recent memory, with drivers being linked falsely to pretty much every team at one point or another, but now, finally, we know who's going where for this season. So here they are:
Red Bull
(Renault V6 Turbo)
1 - Sebastian Vettel
3 - Daniel Ricciardo -
from Toro Rosso
Mercedes
6 - Nico Rosberg
44 - Lewis Hamilton
Ferrari
7 - Kimi Räikkönen -
from Lotus
14 - Fernando Alonso
Lotus
(Renault)
8 - Romain Grosjean
13 - Pastor Maldonado -
from Williams
McLaren
(Mercedes V6 Turbo)
20 - Kevin Magnussen -
F1 rookie
22 - Jenson Button
Force India
(Mercedes)
11 - Sergio Pérez -
from McLaren
27 - Nick Hülkenberg -
from Sauber
Sauber
(Ferrari V6 Turbo)
21 - Esteban Gutiérrez
99 - Adrian Sutil -
from Force India
Toro Rosso
(Renault)
25 - Jean-Eric Vergne
26 - Daniil Kvyat -
F1 rookie
Williams
(Mercedes)
19 - Felipe Massa -
from Ferrari
77 - Valtteri Bottas
Marussia
(Ferrari)
17 - Jules Bianchi
?? - Max Chilton
Caterham
(Renault)
?? - Kamui Kobayashi -
returning from WEC
?? - Marcus Ericsson -
F1 rookie
You will have noticed that the driver numbers are all jumbled up. instead of being assigned based on Constructor's Championship results and driver priority. From this year F1 drivers will have to choose a number between 2 and 99 to keep until the end of their career (drivers with '??' haven't chosen yet). I have no idea why. I think it's something they do in NASCAR or something, as well as SUPER GT in Japan. It's probably for identity's sake, but then the numbers on F1 cars are so small that it barely helps more than spotting helmet colours...
Anyway, there are some new faces and some team switches which, on paper, might seem a little strange. Let's start from the bottom up. Caterham have completely changed their driver lineup, ousting Charles Pic and Giedo van der Garde. The latter driver is now a third driver for Sauber, while Pic's F1 career appears to have lasted about as long as his name. Taking their places are Japanese former Sauber driver and all around Man Of Awesome, Kamui Kobayashi, and Swedish rookie Marcus Ericsson (no, his middle name isn't Sony), the first Swede on the grid since Stefan Johansson in 1991. You can read his brief racing history
here
. Interestingly, Kobayashi-san was racing for Ferrari in the World Endurance Championship last year, driving a 458 GTE for AF Corse, so you'd assume he would be in a Ferrari-powered team, if not driving for the Scuderia themselves. Well, he had done a few exhibition events for Ferrari's F1 team last year and was given a firm offer of another season's GT driving with extra responsibilities in the F1 team such as doing simulator work and pouring espressos (probably not the last one). But no! He wanted to be an F1 racer, dammit, so he
spurned Ferrari and badgered Tony Fernandes
for a race seat at Caterham instead. Here he is doing some spurning: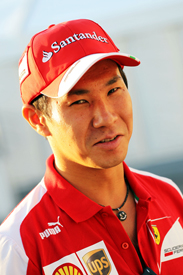 SPUUUUUUURRRRRNNN
Damn fuckin' straight, bro-fo, you just got spurned by the KK. I hope it burns rosso corsa on your soul. Not really. But seriously, this is why we love Kamui. He knows what he wants and he's got it after a year out of F1. It may not be the most desirable team - they came last in 2013 - but a race seat is a race seat. What makes this even better (aside from the fact that his funding includes over £1,000,000 in fan donations) is that he's doing it
for free
, saying "
I'm driving for free, it is my decision. It is just my approach. I want to do this job. This appeals to Tony
[Fernandes]
, this was the message to Tony and he is happy about that. I want to help the team. I don't care about the money. I want to be successful in my life and I want to bring the team back successfully in my goals.
" What a legend, and a cracking racing driver too, given half a chance. Keep an eye on him.
While Marussia is going for consistency, much like the top teams (save for Red Bull), Williams decided to eject their least favourite driver, crash-prone Venezuelan Pastor Maldonado, despite him being the only race winner for the British outfit this decade. In his place is Ferrari castaway Felipe Massa, so I imagine at least one bored journalist will notice that there being a Brazilian in a Williams means they can bring up Ayrton Senna in some contrived way. Massa will join Valtteri Bottas, who rumor has it is still trying to find a way to kill Superman.
Toro Rosso have switched to Renault engines this year, in order to make the rear end of their "STR9" car more similar to that of the Red-Bull Renault "RB10." Previously they had Ferrari power, so seeing as "Toro Rosso" is just "Red Bull" in Italian, surely they should now be called Taureau Rouge? They are still based in Italy, I suppose (making them one of three teams not from the UK, along with Ferrari and Sauber). At any rate, Jean-Eric Vergne will be trying to prove his worth for another year, while filling the Daniel Ricciardo-shaped hole in the Faenza-based team will be Russian rookie
Daniil Kvyat
. This seems a strange one, as he's just been knocking about in junior formulae up to this point and Red Bull's young driver programme had already yielded some strong candidates through World Series by Renault, such as Antonio Felix da Costa, who was the hot favourite for the Taureau Rouge seat (yup, I'm sticking with it). Alas, I fear that money was involved in this decision. In fairness Kvyat won the GP3 championship last season, but when this decision was made he didn't even have the requisite Super Licence, and his Gran Turismo 5 one didn't count, so he had to get one of those at someone else's great expense. I bet da Costa wishes he had backing from a minted country...
Over in Hinwil, Switzerland, Sauber have recruited ex-Force India driver Adrian Suspended-Sentence Sutil, seen here trying to be interesting at the Autosport Show two weeks ago. He succeeded, because interestingly, he said that the new car is actually more powerful (once the double-sized KERS is factored in) and faster in a straight line than last year's V8 cars. However, downforce levels are at a newly-regulated low, so cornering speeds have dipped until such time as the aero wizards have recouped said downforce using loopholes and black magic. Also computers. He will be teaming up with not-a-rookie-anymore Esteban Gutierrez, who has an enormous neck. There was the threat of another Russian rookie pay-driver in the form of 17-year-old Sergey Sirotkin, but in the end he has taken up the role of reserve driver, a role which involves driving in some Friday practice sessions, doing simulator work and sitting in the garage during Grands Prix looking intensely at TV screens with headphones on.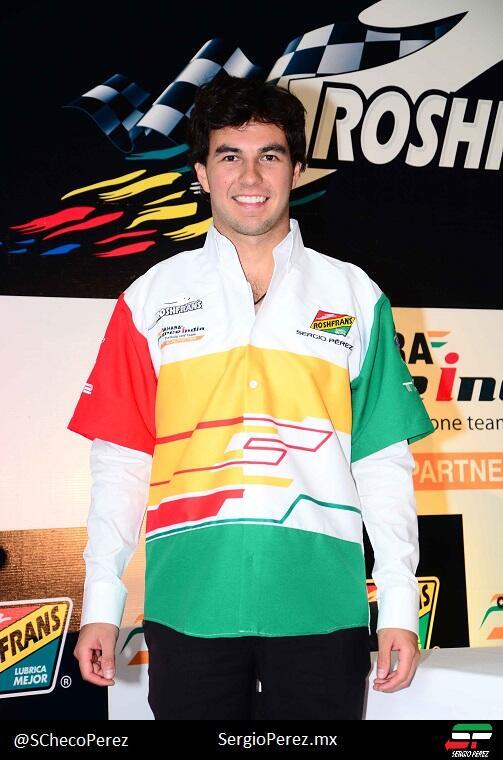 But back to Blighty now, and to Silverstone-based Force India. Paul Depressta has sulked off to do DTM for Mercedes after showing flashes of brilliance and then dropping down the order and it's not his fault honest, so he's been replaced by ex-Sauber ex-Force India driver and perennial bridesmaid Nico Hülkenberg. The Hülk put in some stellar performances for Sauber last year, and was linked to Ferrari for a while, then Lotus for a while longer, but in the end Pasta Marmalado's large sponsorship pipped him at the post. There have also been concerns that Nico's relative tallness means he weighs more and is harder to package, because at the end of the day the driver is a part of the machine just as much as anything else, and if you can't get that part to fit, then that's tricky. Mind you, this is only really a concern because the new regulations include a particularly tight minimum weight limit, which every team wants to meet. Clearly Force India have decided to bet on his talent outweighing his, er, weight. I wish Lotus took that gamble...
Seeing as Sutil has made the sideways jump to Sauber, Sergio Pérez has been recruited after he was ousted from McLaren in favour of promoted reserve driver Kevin Magnussen. As
WTF1 so brilliantly put it
, he appears to be sponsored by the 1990s, going by this photo which I must stress was genuinely taken in 2014, not 1994. The Twitter handle in the corner proves it! Speaking of McLaren, they were supposed to reveal their new title sponsor this year after Vodafone hung up on them, but so far they haven't and aren't planning to yet. Still, they want to make clear that they've got a bigger budget for this season than ever before, which says a lot given that they've been in Formula 1 since 1966. Maybe they're waiting for Honda to bring a big Japanese sponsor with them when they start supplying the Surrey-based team with engines next year. Bring back the orange livery!
I've mentioned already that cash-strapped Lotus (is there any other kind of Lotus?) have submitted to Maldonado's demands, but you should also know that they're keeping Frenchman and "First-Lap Nutcase" Romain Grosjean. Look forward to seeing gold-on-black cars crashing into everything. The reason people liked Lotus so much last year was
their witty hashtags
the presence of Kimi Räikkönen, but that presence now resides at Scuderia Ferrari, where the Iceman won the world championship in 2007. I know you're already keeping an eye on Kamui Kobayashi, but keep your other eye on Ferrari, because Kimi vs Fernando Alonso in the same car should be a titanic battle both on and off-track, as the two champions fight for number-one status within F1's oldest team. It's going to be huge, especially if Ferrari actually succeed in building a fast car, which isn't a guarantee when new rules come about (see 2009).
Glossing over Mercedes-AMG, as the only news there is the retirement of technical director and genius Ross Brawn, we are left with Red Bull. Mark Webber had finally had enough of their shit last year and has subsequently defected to Porsche to see what it's like to drive a Le Mans prototype that doesn't back-flip when it goes over a crest. As you'd imagine, literally everyone covering the sport speculated over who would replace him this year, ranging from Alonso to Räikkönen to both Toro Rosso drivers and beyond, but in the end it was only one of the Toro Rosso drivers, also-Australian smile-o-tron Daniel Ricciardo. He's been one of those mid-field drivers that puts in surprising results but ultimately doesn't finish on the podium, so it'll be fascinating to see what happens when you take one of those drivers and put him in - let's safely assume - the fastest car. During the mid-season test at Silverstone last year, he drove a Red Bull RB9 and was actually two tenths faster than golden child Sebastian Vettel, so maybe your other eye ought to dart between Ferrari and Red Bull. Or just use your third eye. That's probably safer. The thing is, if you love Vettel, you'll want to watch this battle and see him prove that it's him and not the car that's won the last four titles, but it you hate him then you'll want to watch it to see if Ricciardo can show him up or even beat him... until he gets put in his place by the team.
So already, the season is shaping up to be worth a watch... and that's before we even get to the cars these 22 drivers will be racing, which I'll refresh you on tomorrow. Probably.