Whoever scanned this needs to take the bar out the middle...
I was going to put this in an update to my
original post
about Toyota's and Subaru's antidote to the likes of the pious Prius, but there's been another sizeable spec-drop for the first fun affordable Toyota since the MR2 was killed off. This time it's about handling and the components and calculations that make this a rival to the Mazda MX-5 in terms of driver satisfaction. In case you didn't know, the MX-5's one of the very best small sports cars money can buy. Hopefully this won't get the same "chick car" image...
Thanks once again to the people at
FT-86 Club
, who also provided this much clearer image of Toyota's production car, as they have helpfully translated all the Japanese in whatever document Toyota is printing out early and expecting to stay secret, and it's even more good news for driving enthusiasts. To understand the hype, think of the ideal sports car. Imagine a small, light, agile FR-layout coupé with a centre of gravity lower than a Porsche's, the drag coefficient of a Nissan GT-R (0.27), the handling ability of a Mazda MX-5 (which is a bit like a front-engined Lotus), hidden mounting points for a rollcage and space in the back for a full set of spare tyres to get you home after a track day (or help you go nuts when you get there). Add on to that direct injection for high fuel efficiency, space for 4 people (assuming two of them aren't particularly big), a decent boot, and an engine with a 7400rpm redline, but designed to also have great low- and mid-range torque, that's
also
designed to be modified easily, or swapped out altogether and replaced with any motor Subaru has ever made, at least one of which won International Engine Of The Year. Then suppose it will cost roughly £15-25k (target price in the US is $25k). The "Toyobaru", as it is so nicknamed, is all of those things. It even has removable cupholders and a folding rear bench, presumably so you can fit the kitchen sink in, if Toyota and Subaru haven't hidden it in there somewhere already...
Too good to be true? Well, let's take a look at this page for a start (open it in another tab to enlarge it). Here, Toyota compare it to five other sports/supercars - including their own hyper-expensive Lexus LFA - in terms of the centre-of-gravity (CoG). A low CoG is essential to any sports car, because it minimises body roll and improves overall stability in corners. Having a flat and compliant base helps you point it where you want it to go. As you can see, its CoG is lower than that of a Nissan GT-R, Impreza STI, Evo X, and, crucially for engineering bragging rights, a Porsche Cayman, one of the best drivers cars on sale today. It's not miles off that of a Ferrari F360 either, and is only 15mm off the perfectionist LFA. Interestingly, an MX-5's CoG, from what I can find on Google, is around 447-457mm. That may not be entirely accurate, but it's still pretty darn low. To be fair to the Toyobaru, the MX-5 is a roadster, so there's much less mass high up than this fixed-head coupé, which is probably why it isn't in this comparison.
The weight distribution has also been judged to be better off not being 50:50. Instead, it's 53:47, which apparently makes it easier to control when it's sideways - something AE86 fans will really appreciate - and the slightly heavier front end gives it "a pure sense of steering". Basically, they would have to really mess up the suspension or use a really floppy body and chassis to ruin this car, and I suspect that with double wishbones in the rear and Macpherson strut suspension in the front mounted as low as possible, it won't be the former, and to be honest the latter is unlikely too, considering it was tested extensively at the Nürburgring.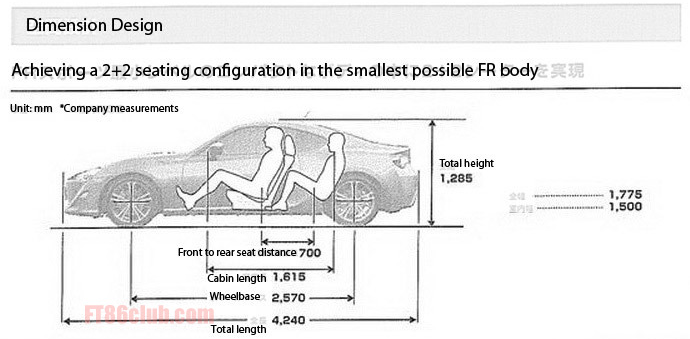 It's not just for drivers who are all speed and no greed though - there is just enough room for two people to sit behind you, assuming no-one's fat or too tall (the seat back is curved to make room for knees), and the rear bench folds down to make room for four wheels and tyres, a helmet and tools, or two golf bags, if you're that way inclined. They also include an "assist pad" on the door sill, sliding front seats and an "assist grip" to support your upper body as you squeeze into the back. Thoughtful. The low weight and low drag coefficient (the other of two motivations to make the engine and front suspension so low - besides CoG - was to have a low bonnet and subsequently low front profile, improving aerodynamics) also mean relatively low fuel consumption and about 37mpg (combined, imperial figure), so it's no gas-guzzler.
I could go on further, but these things alone should pair up with the tuneable 200bhp, 151lb/ft engine and the 1210kg kerbweight to whet your appetite. If you still need persuading that this is the best idea Toyota have had in years, by all means
follow this link
and find out more. Oh, and don't forget the Subaru BRZ STI Concept either. It previews the Scooby version, but with some SEMA-style touches. "BRZ" means
B
oxer
R
ear[-wheel-drive]
Z
enith, which sounds like they didn't know what to call it, to be honest. I think they should use the 'Alcyone' name (possibly pronounced Al-
cy
-uh-nee) that they used on their two previous coupés, the quirky-but-rubbish XT and the quirky-but-oddly-pretty SVX. Words are more expressive than letters, and 'Alcyone BRZ' sounds kinda cool.
I leave you with this photoshop of the top image, with the centre line removed and the body coloured blue: