This colour is called 'Gotta Have It Green'. Have I? Have I really? I prefer the blue, myself
The first major motor show of the year is the North American International Auto Show (NAIAS), which has just finished. It was relatively quiet in terms of exciting new models compared to
Frankfurt '11
, but there was plenty of new American metal looking to finally take on the Europeans at mainstream cars with at least some level of genuine conviction... because deep down, they're all secretly European. In no particular order, here are ten cars I actually took an interest in.
1. Ford Fusion/Mondeo
The Ford Fusion has been America's equivalent of the trusty Mondeo for years now, so with their first global Focus and Fiesta doing pretty well, they have decided to do the smart thing and merge them to create this. It's based on the current European Mondeo, but thoroughly refreshed inside and out, with a new range of engines and styling derived from the
Evos Concept
, sans the mad doors, and while the lack of "Kinetic Design" makes it a little less striking than the outgoing EU Mondeo, and the Aston Martin grille is misleading, overall it looks pretty solid, and pretty handsome. So for us, it's a thorough refresh of what's now a 5-year-old car, but over in America it's a huge leap forward over the outgoing Fusion, which is nice for them, because they don't get all the cool stuff we do in Europe. Actually, it's nice wherever you are, because the hybrid version - WAIT, don't fall asleep just yet - is claimed to be the most efficient car in the world (aside from the Nissan Leaf EV, which for many is still unjustifiable), with a 2.0-litre four-cylinder engine and a battery pack teaming up to help the Ford Fusion "Energi" achieve a claimed 100 MPGe (an equivalent of regular MPG for hybrid and electric cars), which only trails the Leaf by 6MPGe. Not bad. This means you can have a nice car that's greener than a Toyota Prius. Really not bad. It will continue to be sold outside of America as the Mondeo.
2. Acura NSX Concept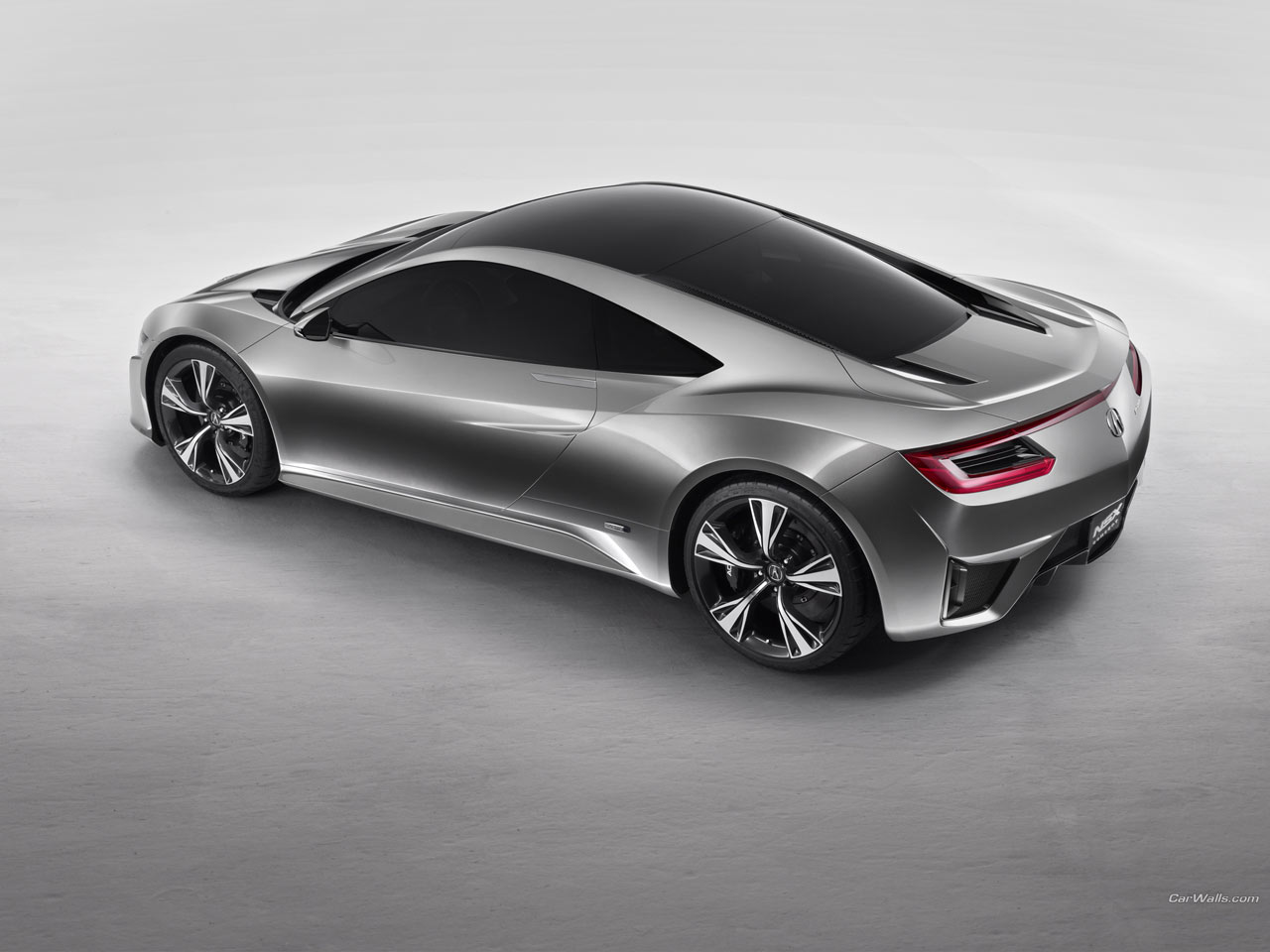 This is a car that I was genuinely nervous about. I'm a huge fan of the Honda NSX, as you can read
here
, and over the years there have been a few attempts to bring back the cult Japanese supercar, with varying levels of similarity to the original. The first one, the
HSC
of November '03, was what I wanted, a modernisation of the NSX, still an MR-layout car with a V6, with a more respectable 300+ horsepower and gorgeous bodywork. It could've been like a Japanese Lotus Evora. Alas, it never came to be. Then, in 2007, Acura, Honda's American luxury brand (like Lexus to Toyota) brought along a front-engined V10 car called the
ASCC
(perhaps to tackle the Lexus LF-A Concept), which was ugly as sin and all wrong as an NSX replacement. That car was axed when the credit crunch/recession/global economic crisis/worldwide money booboo hit in late '07 and '08 (which also saw Honda pull out of Formula 1 and kill off the brilliant S2000, as they focused on making cars that sold in larger numbers), only for the ASCC to return in 2010 as the
HSV-010 GT
, racing in the Japanese SUPER GT series and winning the title on its first attempt, which was impressive.
And so here we are, in 2012, with
this
new attempt, and this time, they appear to be serious. First of all, they haven't called it HSC or ASCC or MRSC, they've used
those letters
, NSX. Secondly, a one-off roadster version will appear in
The Avengers
with Robert Downey Jr.'s Tony Stark behind the wheel, suggesting it'll evolve into something with a price tag. Thirdly, they already have a plan of attack: the car you see here will be designed, developed and built in Ohio, which is in America, which is definitely not in Japan. That worries me a little, seeing as Japan is making the Lexus LFA, Nissan GT-R and Toyota GT86 at the moment, and are surely perfectly poised now to make a truly brilliant Honda NSX. Of course, with the economy still in a poor state, we'll have to wait and see if they actually go through with it this time...
But what if they do? What can we expect? Well, From every angle except the front, it's absolutely gorgeous, as you can see above. The front fascia though, I would change. To what exactly, I'm not 100% sure, but that beaky Acura grille has to go, and the low-set headlights, while pretty, are a little too Audi R8. Whilst it looks great overall, it doesn't look Japanese. I won't harp on about this much, but if the idea is that Acura will make this car themselves and design it to look like an Acura supercar and not a Honda, then don't call it the NSX. The NSX is one of the best-known Japanese supercars, and this looks American. Call it the ARX or something. Any other letters will do (well, except GTR, they would get in more trouble for that). When Lexus made a supercar, they didn't call it the Lexus Supra just because they could, they gave it its own identity and called it the LFA. Whatever, either way it's going to have a mid-mounted 3.5-litre V6 (good) and a hybrid system (not good) similar to Peugeot-Citroën's Hybrid4 system, except back-to-front, with engine-powered rear wheels and battery-powered front wheels with regenerative braking, that will feature torque-vectoring to keep the front end pointed in the right direction and keeping your racing line on GT5 nice and tight. It will also have a DCT with paddles behind the steering wheel. Not the kind of thing Ayrton Senna would develop if he were alive, but there's promise in this car. If only they hadn't called an automatic hybrid an NSX...
3. Dodge Dart
Another new mainstream entry from America, to replace the miserable Dodge Neon, is this, the new Dodge Dart, a car so American it's actually Italian. Based on the Alfa Romeo Giulietta (because Fiat can make good small cars and Chrysler cannot), the Dart features three very similar engines. There's a 2.0-litre four-pot engine with 160bhp and 145 lb/ft that appears to be Chrysler's creation, then there's the clever turbocharged 1.4-litre Fiat MultiAir engine, producing the same 160bhp as the 2.0, but 40lb/ft more torque, which begs the question, as the MultiAir will be cheaper to insure and more efficient, what's the point in buying the bigger 2.0-litre engine if the smaller turbocharged one is technically better in every way? The top-shelf engine to go in the R/T version is a combination of the two companies' engineering, as the 2.4-litre (non-turbo) four-cylinder engine is the same "Tigershark" engine design as the 2.0-litre, but with Fiat's new MultiAir 2 valve timing system. It makes more power, at 184bhp, but the torque is in-between the other two engines, at 171lb/ft. Weird. Whichever engine you choose though, it will be propelling an Italian-American with a noticeably more upmarket interior than previous small American 'sedans', putting the Chrysler Neon and Dodge Caliber to shame. It's promising, but I'm reserving judgement until I read reviews suggesting it's worth considering over a Ford Focus. 6-speed manual transmissions are available on all versions, with the 1.4T also offering a 6-speed DCT from Fiat, and the other two engines offering a 6-speed auto from Chrysler. Hey, I made it all the way through this paragraph without doing a Mafia accent! I wasn't expecting that...
4. Falcon F7
I wasn't expecting this either. If the Acura NSX made me nervous because of my high expectations for it, this car is making me nervous for entirely different reasons - have you ever seen a more menacing face? This cartoonishly angry mug belongs to a new American supercar, because with Saleen, SSC Supercars, SLC, Hennessey, the Corvette ZR1 and Dodge Viper ACR, there just weren't enough American supercars. This one is called the Falcon F7, and from any other angle you would think someone had a Ferrari fetish, a Pontiac Fiero and some spare time. Weighing in at around 1200kg, thanks to a simple aluminium tube frame and carbon fibre, the F7 is powered by a mid-mounted small block Chevy engine making over 600 horsepower, which gets it from 0-60 in around 3.5 seconds and onto a top speed of around 200mph. When you think about it, those numbers are pretty ordinary in the supercar world. A Nissan GT-R will do 0-60 in 2.8 seconds, a Lamborghini Aventador has 700 horsepower and a Pagani Huayra will do 230mph. Mind you, the F7 is, of course, much cheaper than the latter two cars, with a possible price ranging from $195,000 - $250,000. That makes it either more or less expensive than a Ferrari 458 Italia (with a 0-60 of 3.3 and a
top speed
of 202mph), and if it's more, then it won't be worth it. It may
look
like a Ferrari, but it won't drive or feel like one.
5. BMW 3-Series (F30)
This isn't actually the world début of the new BMW 3-Series, but I think it's the first motor show it's appeared at, and I have reported on
spy shots
of this car, so consider this a follow-up. The new F30 generation (replacing the E90) is bigger
and
lighter, faster
and
more economical, and only comes with turbocharged engines, for much the same reason that the base 2.0 engine in the Dodge Dart above is pointless. Together, turbocharging and Direct Injection really are the replacement for displacement. Thankfully though, you can still get it with a Straight-Six engine, a rarity these days, particularly in mainstream cars. In fact, outside of BMW, I can't think of another company that still uses the in-line configuration for six-pot engines. One of the I6s has been replaced with a four-cylinder engine, but they still had to make the engine bay long enough to accept a V12 for the 335i and its 3.0-litre turbo six. Because it's a bigger car than before, let's also assume it's wide enough for a V12. Now let's pretend that they're going to merge two 335i engines together to make a 6.0 V12 BiTurbo with 612bhp... now
there's
an M3.
6. Lexus LF-LC
Lexus. Proprietors of beautifully well-made boredom. Who wants the sportiness and image of German cars? Not Lexus owners. They may or may not approve of this LF-LC concept, but then this isn't about them, this is about Lexus building up its own image. Looking like a fantasy LFA, this is only a styling exercise, meant to suggest the kind of thing they might do if they were ever to replace the ugly and boring SC430 that was killed off much later than it really should've been (see more pictures
here
). Of course, being a modern Toyota product that isn't the
LFA
or
GT 86
, it's a hybrid. Beyond that, though, Lexus didn't mention anything about the powertrain, because that's not really the point of this car. This won't get built, it's just a styling exercise hinting at the future. The LF-LC has done what it set out to achieve though, as it has won Lexus a
design award
at this very motor show in Detroit. Job done. Now build an SC that looks like this. Then use the platform to make a Toyota Supra. Hybrid powertrain not acceptable.
7. Smart ForUs
Somehow, Smart is still alive. It pops up every now and again with a tiny eco-conscious concept car featuring rounded-off squares in the design, and then disappears off to sell what must be a low amount of ForTwo city cars. In a world of Fiat 500 TwinAirs and Toyota iQs, why bother? To keep itself from thinking these thoughts, Smart has busied itself with this, the ForUs Concept. The name could be taken in a number of ways - Smart may consider it clever by their own standards, it could mean they've built it for themselves, it could mean it's another wretched "lifestyle vehicle", or it could mean that it's the Smart For US. The latter idea has some weight, because the ForUs is designed to challenge the humongous American pickup trucks in every way (except practicality). Is bigger really better? Do cowboys in southern states really
use
their pickups and fill their load beds to the brim? If not, then get ready to revel in the
Suzuki X90
-meets-rounded-squares looks, electric powertrain (of course) and a whopping
thirty-five inch
rear cargo area, complete with trendy
lifestyle bicycles
. Presumably, the bikes are there for when the 75hp electric motor with 96lb/ft of torque runs the batteries clean out in the middle of nowhere. This 3.5-metre "utility vehicle" will never see production, unless Smart plan on culling the population by causing Americans to die laughing.
8. Cadillac ATS
This almost got its own article here on SBV8, but now it won't. You see, Cadillac reckons it's built a 3-Series. Now, American cars are to luxury vehicles what Korean cars are to normal vehicles. But Korean cars are on the up and up - the Kia GT from Frankfurt last year was gorgeous, and Hyundai/Kia is making some genuinely good cars now - so that also makes it time for the Americans to step it up. Thus, the ATS you see here (which got a terrible amount of hype from
Jalopnik
's head honcho) has many modern features on it, such as an in-house infotainment system, multi-link fully independent suspension all round, magnetic dampers (or magnetorheological dampers if you're a scientist/mega nerd), four-channel independent ABS, Brembo brakes and optional All-Wheel-Drive. That's all very well, but where it starts to actually get interesting is that is has a 50:50 weight distribution and a weight favourably comparable to the BMW you see above. That means there's a good chance of it driving well. Spy shots of it at the Nürburgring suggest the ride might be a little firm, but then so's a BMW on RunFlat tyres. Like the Dodge Dart, there's a pointless naturally-aspirated 4-cylinder engine and a smaller turbocharged one (2.0 litres) that's better on paper than the NA 2.5. The range-topping 3.6-litre V6 is estimated to produce around 320bhp, which is not exactly sluggish. As for aesthetics, I'm not really sure about it myself. Cadillac's rulers-only styling has lovers and haters, but I think the headlights are out of proportion with the huge grille. The rest just sort of looks like a Cadillac.
Technically though, this
could
potentially be a genuine alternative to the German "Großer Drei", at the very least providing stiff competition to Lexus and Infiniti (Nissan's luxury brand), and SAAB if Cadillac's parents hadn't killed them off... The real test for this car now will be finding out how well it all comes together, how good the interior quality is (a key point when fighting Audi and Lexus, the kings of interiors), and seeing how it fares in the various group tests that will be held in magazines the world over. Reserve judgement until then, I say.
9. Hyundai Veloster Turbo
Back in the day - and by "the day" I mean "the eighties" - all you needed to have on the back of your car to get petrolheads all aflutter was a "TURBO" badge. Mitsubishi went a little overboard with this idea on the
Starion Turbo
(also known as the Dodge Conquest
TURBO
), but all the same, from Renault to Porsche, any '80s car worth its salt had those five magic letters on the back. Now, Hyundai's partying like it's 1986 with the Veloster Turbo. Of course, the impression you may get having read this far down the page is that almost every car is turbocharged these days, but this car is different, because while many use metal hair dryers for economy, to replace big, thirsty engines, Hyundai have applied one here in the good name of
POWERRRRR
. 45% more power, in fact. While the normal Veloster produces a paltry 138bhp and 123lb/ft from its naturally-aspirated 1.6-litre engine, the new turbo-aspirated car you see here in matte grey with a hefty bodykit is forcing out 201bhp and 195lb/ft through the front wheels, which is much more like it for the supposed VW Scirocco rival. You can control these Turbo-tastic horses with a 6-speed manual gearbox, or ignore them with a 6-speed automatic. Weight has risen from 1172kg to 1270kg, which is not great, but if it's because they've been toughening up the chassis and suspension to make it handle better, then it's not all bad. Of course, it could just be weighed down with loads of TURBO badges and the mortar cannons they're calling
exhausts
. Either way, that still makes it lighter than a VW Golf GTI, so it's not heavy, per sé, just heavi
er.
Comparison of stats
here
.
In modern hot hatches, 200+ horsepower through the front wheels not the understeery hell it sounds like; Renaultsport will sell you the Clio 200, widely believed to be the best-handling hot hatch in the world right now, as well as a 265bhp Mégane Trophy, which is the fastest Front-Wheel-Drive car around the fearsome Nürburgring. Ford even went as far as channelling 345 horses through the front of the Focus RS500, and that went down pretty well, despite some torque steer. All this means the Hyundai Veloster TURBO has the potential to be a real hoon machine, one that retains its USP of having one door on the driver's side and two doors on the passenger side, making it either a 4-door hot hatch or a 3-door coupé, however you see it.
10. Toyota NS4 Concept
Don't worry, you're nearly there now. You just have to make it through this paragraph about a 4-door Toyota. I wouldn't normally include stuff like this NS4 Concept, because concept cars like this are a dime a dozen. It's hybrid-powered (although like the LF-LC, there's no detail beyond that), looks kinda futuristic and boasts about some pie-in-the-sky interface that, because this is post-2010, includes social networking in some way. In case you don't know these concepts exist though, here's proof. It looks fairly reasonable, with the sleek, banana-shaped roof profile of a Mercedes-Benz CLS, VW Passat CC, Audi A5 Sportback, Audi A7 Sportback, Aston Martin Rapide, and so on and so forth, although the front is a little weird. According to Toyota, "
NS4 demonstrates Toyota's take on the human connection to the car, with technology that considers both emotional and rational relationships, person-to-car and car-to-society.
" Eugh. It does this with glass more transparent to radio waves, presumably boosting signal so you can communicate how bad the traffic is from behind the wheel on Twitter a little quicker, and by replacing the dashboard with a kind of giant iPad that controls all the car's functions. Called the Human-Machine Interface - eugh - it can even learn your habits and predict what you will do next in certain situations, kind of like how Google Chrome auto-completes frequently typed searches and addresses, or like when you go to the same pub and say "I'll have the usual". Sort of. On top of that, it has all the latest safety acronyms, like PCS, ADB, BSM and THUMS. There's
more here
if you're trying to vomit, but right now I'm losing the will to live just typing about it...
The Also-Rans
Honourable mentions include:
Porsche 911 (991) Cabriolet
- Pretty self-explanatory, this one.
Ford Shelby Mustang GT500 Super Snake 50th Anniversary
- Longest combination of awesome words in a car name meets highest amount of power in a front-engined car ever, thanks to the supercharged 5.0 V8 making a staggering
800 horsepower
. Hear that? It's the sound of tyres quivering in fear.
Subaru BRZ
- Scooby's twin of the Toyota GT 86 features a different front bumper and slightly more forgiving suspension settings. They actually claim to have done all the mechanical bits on both cars, which is largely true actually, aside from Toyota's direct injection system.
VW E-Bugster Concept
- Chop-top VW New-New Beetle powered by a 114bhp electric motor, which is in the back, just like a real Beetle used to do it. Only this one's actually as green as hippies want it to be.
Chevrolet Code 130R and Tru 140S Concepts
-
These
are meant to appeal to people approaching 30 years old, but they're certainly not catching on. The red Code 130R is far too bland and the silver Tru 140S is just another "youthful" blobby concept car, which is again instantly forgettable. Move on, Chevrolet.
Mercedes-Benz SL-Class
- While the
new SL
's meant to be very clever with its aluminium chassis and such, it just looks like a really big SLK. Wait for the AMG version, I reckon. That'll be cool.
And that's it! You've made it to the bottom of the page. Sorry this was quite long, but the NSX made me rant a bit. The Geneva round-up in March might be split into halves, seeing as that's usually the show where it all happens. We'll have to see though.